An 11-year-old boy is recovering after suffering a rare and painful allergic reaction which caused him to shed his skin.
Calvin Lock almost died after taking a small dose of ibuprofen, which caused his entire body to burst into blisters and his hair and fingersnails to fall out.
The condition is known as Stevens Johnson Syndrome (SJS), which calls skin cells to die before being shed in the manner of a snake.
Scroll down for more pictures Calvin Lock is on the mend after losing 65 per cent of his skin
Calvin lost 65 per cent of his skin and his parents were told he had little chance of survival.
He spent three days on a life-support machine before making a miraculous recovery and is now teaching himself to walk once more
His mother, Robyn Moult, 38, and father Daryn Chambers, 47, plan to launch their own charity to help raise awareness about SJS and warn the dangers of ibuprofen.
Robyn said: "It looked like someone had poured petrol all over him and then set him alight, it's been a tough time for us all, especially Calvin.
"We just feel so lucky to have him here with us as we were warned to expect the worse when they put him on the life machine.
"The severity of the allergic reaction was what was so frightening. Literally every part of his body had blistered.
"It was heartbreaking. His vision has been affected as his eyes were so badly blistered and he even had to teach himself how to walk again.
"Losing his hair has been tough and he hates the fact his skin looks so different but his strength has just been amazing.
"He is handling it unbelievably and we're so, so proud of him."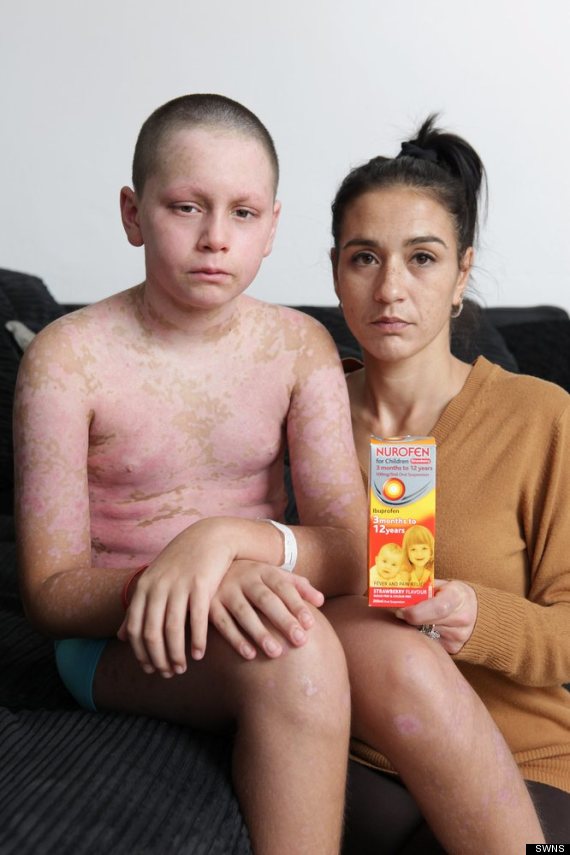 Calvin and his mother Robyn Moult, who described his ordeal as 'heartbreaking'
The horrific reaction occurred on September 26, after Calvin took ibuprofen to fight a viral infection.
He woke up the next morning with a rash on his face and a slight swelling to his ear.
Calvin was taken to a GP and at first doctors believed it was chicken pox and gave him more antibiotics.
The following day swelling and rashes to spread across Calvin's body and his worried parents called NHS direct who told them to rush him to Addenbrooke's Hospital, Cambridge.
He was put on a drip and work started on treating more than 200 blisters that had appeared on his body.
When his condition continued to deteriorate, Calvin had to be put on a life support machine for three days before being transferred to the specialist burns unit at Broomfield Hospital in Essex.
Calvin's family were told his condition was critical and that his chances of survival were slim.
Doctors at Broomfield Hospital removed 65 per cent of his skin and his hair and fingernails also fell out.
Calvin underwent two operations and after two days he was finally able to breathe by himself.
After a week in hospital Calvin had his feeding tube removed and he could eat again.
As he condition continued to improve, he was allowed back home to Littleport, Cambridgeshire, on October 19.
SJS affects just three in a million people and is usually triggered by an adverse reaction to medication. The mortality rate is around 15 per cent.
Victims develop terrible scarring all over their bodies and well as severe conjunctivitis which can lead to blindness and mouth infections which can stop them eating.