A Chelsea player told referee Mark Clattenburg "I will break your f*****g legs" during their Premier League defeat to Manchester United, it has been claimed.
The Daily Mirror say players and staff confronted the referee after the 3-2 loss, at which point the threat was apparently made towards Clattenburg by John Obi Mikel.
John Terry, serving the second of a four-match ban for racially insulting Anton Ferdinand, was supposedly close to the fracas as some players "charged into the room and acted like bouncers".
Clattenburg is the subject of an FA investigation after Chelsea said he used "inappropriate language" towards two of their players, with the County Durham official accused of airing a racial slur at Mikel. He is also alleged to have called the other Chelsea player a "Spanish twa*". Juan Mata and Fernando Torres are the only two Spaniards who played for the Blues on Sunday.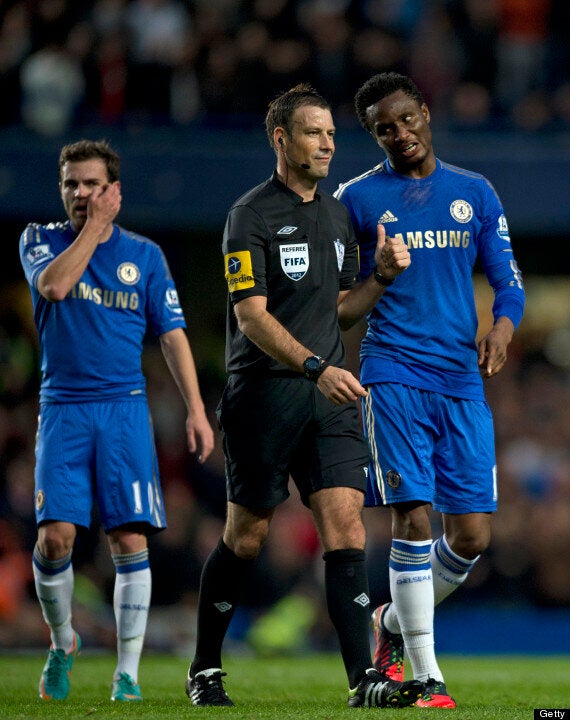 Mikel speaks to Clattenburg
Chelsea manager Roberto di Matteo and the club's chief executive Ron Gourlay both reportedly attempted to placate the furious Mikel in the tunnel. Clattenburg is still yet to respond to the statement Chelsea first released at 8pm on Sunday evening.
Torres and Branislav Ivanović were both sent off and Javier Hernández struck an offside winner for United on an afternoon now synonymous with controversy. It is the latest divisive fixture between the two in the league at Stamford Bridge after Martin Atkinson was criticised for his performances in the 2009/10 and 2010/11 games by Sir Alex Ferguson. Ferguson received a five-match touchline ban for questioning Atkinson's impartiality after the latter match, three of which were suspended.
Clattenburg will not officiate in the Premier League this weekend due to the "intense scrutiny" he has come under in the aftermath of Sunday's match. Lee Mason will referee Chelsea's League Cup tie with United on Wednesday night.
Related