Liverpool captain Steven Gerrard has backtracked on his claims Everton play like Stoke City following Sunday's Merseyside derby draw.
The England midfielder made the comments after Luis Suárez was wrongly denied an injury-time winner for being offside.
And now Gerrard has excused the comparison he made, blaming frustration.
"Just to clarify I've watched the game again, and I've seen some of Everton's matches this season, and what I said in relation to their style of play went too far," he told the Liverpool Echo.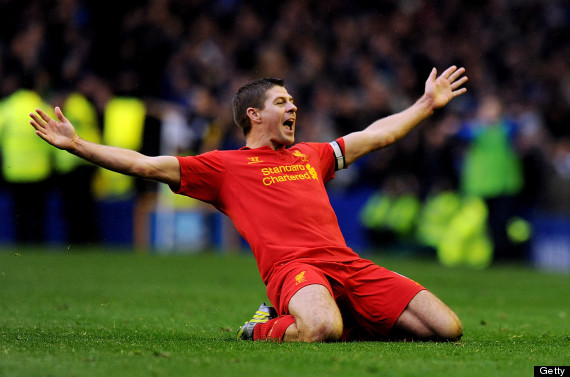 Gerrard celebrates Liverpool's 'winner', but would be left disappointed
"I was frustrated by the disallowed goal from Luis when I spoke and also some of the things (diving allegations) that have been said about Luis in recent weeks which haven't been fair in my opinion. As captain I have a duty to stand up for our players when I feel they are unfairly singled out.
"But it wasn't my intention to disrespect Everton or Stoke for that matter and I certainly didn't intend any disrespect to their manager or players. I have the utmost respect for David Moyes and Tony Pulis and the job they have done at their respective clubs."
Liverpool drew 0-0 with Stoke for the third time in five seasons at Anfield earlier this month.