Forget the charity aspect, forget the ghouly-themed meals, 'Come Dine With Me: Halloween Special' was all about whether Alex Reid would take the fancy dress code as an invitation to bring out his estranged partner Chantelle's worst nightmare, Roxanne.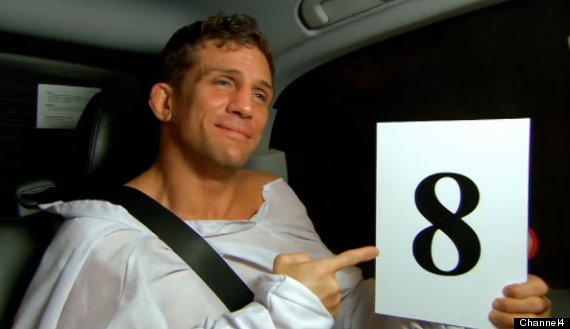 Alex Reid got into the spirit of things on 'Come Dine With Me'
This could have been proper car crash television with its inspired combination of contestants - from Freddy Kruger to Alex Reid, via telly psychic Sally Morgan and glamour model Nicola McLean - but, almost disappointingly, ended up being quite a good laugh.
Obviously, the man behind Kruger, actor Robert Englund, was the big name, and he didn't disappoint, veering from slightly camp, touchy-feely American - "I'm not scary, I'm just a little shy" - inexplicably asking his co-diners if they got horny in hotel rooms, to sharing his more beloved screen persona, complete with jokes about his infamous glove puppet that he's presumably made 1000 lucrative times before.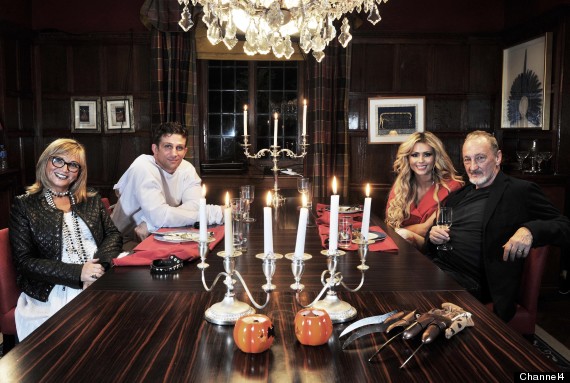 It was an unlikely guest list - Sally Morgan, Alex Reid, Nicola McLean and Robert Englund
But all eyes were on Alex Reid, particularly in a week which saw the estranged mother of his child, Chantelle Houghton, not just hang out their dirty washing but parade it through the streets of Essex and Twitter. At least he can lay claim to the rare feat of shocking Freddy Kruger with news of his cross-dressing cage-fighting day job.
You know you're in trouble when a former WAG turned glamour model accuses you of being too fame-hungry, and Nicola wasn't mincing her words... "As soon as he turned up, it was all him, him"... "Alex never quite gives a satisfactory answer because he's always waiting to sell it to a magazine."
But Sally, whom Alex charmed with his silver tongue - "You're actually quite a good looking bird. If I was your age and you were single, I'd probably have a go" - was more forgiving - after she'd laughed in his face about his so-called acting career - "He's a little boy, he doesn't know who he is."... "When you see this in a child, you have to make sure they don't grow up deluded."
And he was actually quite sweet, winning even Nicola over with a grub-free salad, specially made for her, and in awe of Englund, calling him "an oasis, a respite, what's the word for that? I like to think I'm reasonably cultured. If I were to spend a week with him, my IQ would go up by at least 10" - ok, sometimes, he just asks for it, equally when he mused...
"Being beautiful and good-looking doesn't really make you... You get a lot of trouble, really, because you're not taken seriously."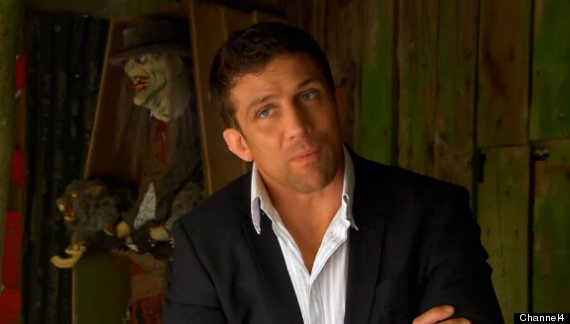 Reid is desperate to be taken seriously
Reid is obviously very happy dressing up - he was his most relaxed and charming in Druid garb - but all too aware of "the pain this has caused in two relationships". Sean Bean ignited our compassion with a study of this in the recent drama 'Accused', but his character wasn't playing out his personal relationships on Twitter. Alex Reid does not deserve to be famous, just because of his complicated wardrobe and women. But, just as they say countries get the leaders they deserve, perhaps we get the celebrities we deserve. Now that really is a nightmare, and not just for Halloween.
I personally found him at his most endearing when he freaked like a Stepford wife over some spilt red wine, but that was about it. Less forgivable was his attempted profundity thus, "There's more we don't know about than we do know on this planet," because thereby lies the rub. There's NOTHING we don't know about him and as he admitted, "it's become an addiction." Perhaps he can take a little friendly advice from kind old Uncle Freddy Kruger and "when you're in a rut, correct it a little", and he did seem open to ideas.
Click here for more TV Reviews
Animals + Pumpkins = Halloween Cuteness