Want to make a film, send a funny message that might just change the world? These people have.
Suzan Beraza and Michelle Hill have created 'Bag It', the third film in the shortlist for this year's PUMA Creative Impact Award, which recognises - with a prize of E50,000 - the documentary deemed to have made the most social impact in the past twelve months.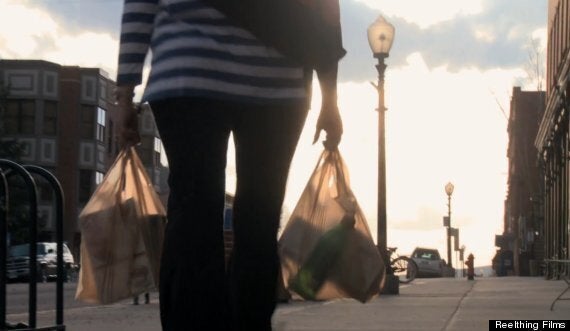 Bag It asks... where do all the bags go?
HuffPost UK is the editorial partner for this year's award and are featuring each of the shortlist's five films in turn... this week, 'Bag It'.
The brains behind the film were inspired by a competition in their home town of Telluride, Colorado to reduce the number of disposable bags being used. Suzan explains, "As soon as we started investigating plastic and its impact on the environment and on health, we realized there was so much more to the story. It was a bit like Alice going down the rabbit hole. Two years later, we had a feature-length documentary."
The pair were keen to make a film that would be accessible to a wide audience, to make it light and humorous despite the sobering message of just how much plastic the population gets through on a daily basis, and its impact on the environment and all the creatures within it.
The film has found an audience already - a sell-out in their home town, more than 1000 screenings at schools, universities and corporations across the world as well as viral interest on the web for this, the pair's first feature-length film, and a grant from singer Jack Johnson's Charitable Foundation to help spread their message, and been gratified by policy change in their own community as well as a response by the American Chemistry Council.
Now the hope is "to keep this campaign going. It's a big world out there, and a lot of people still to hopefully inspire to change their habits!"
The Puma Creative Impact Award will be announced in Berlin on 13 November. Watch the trailer for Bag It below...