James Corden and Jack Whitehall have indulged in a little synchronised cross-dressing aquatic shenanigans whilst filming the latest episode of 'A League of Their Own'.
A far from svelte Corden donned a flamingo-pink full body cossie and some rather fetching make-up as he strutted his stuff with a troupe of professional synchronised swimmers. Spot the non-professional
Whitehall looked slightly less confident with his goggles and nose peg giving him the look of someone constantly teetering on the brink of a watery demise. Whitehall looked far from comfortable in the water
Out of the water Whitehall regained his composure, posing in a yellow mac. Whitehall: Much safer out of the water
Fellow game-show panellist, Jamie Redknapp, easily took the crown of the manliest looking of the three sticking to a traditional pair of swimming shorts.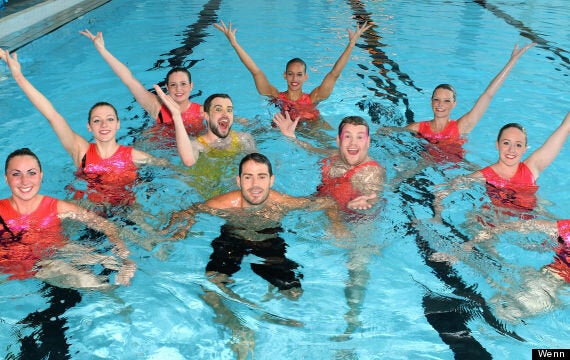 Didn't fancy a two piece then, Jamie?