It first surfaced in 2008 as a clever spoof, but the Baby Mop is back and it's REAL!
Yes, busy parents can combine baby's development with housework, thanks to these romper suits fringed in absorbent mop tassels.
Retailing at just $40 (£25), the Baby Mop promises to teach your baby a strong work ethic, encourage it not to drop and waste food and save you a fortune on cleaning costs.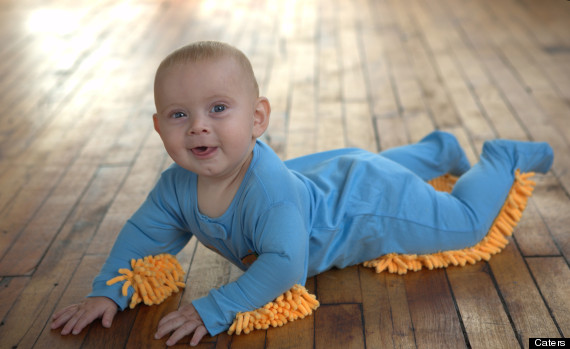 Start em young: The Baby Mop is 100% cotton and machine washable
A series of ringing endorsements are listed below via the company's Facebook page, including this hearty approval by Pat Crosswhite:

Criticism does lurk in the form of Ryan Philips however, who gripes: "That is the laziest product I've ever seen. Babies shouldn't clean…your product is offensive." Oh BOO Ryan Philips! Just look at these floors!
The baby mop first emerged as a Japanese spoof on the internet four years ago and even featured on the Ellen show in a "crazy inventions" segment. Sadly there was no marketing drive and it remained a pipe dream for many parents.
SEE ALSO: No Garden? No Problem. Let Junior Enjoy The Fresh Air In A Baby Cage (PICTURES)
So we're sending a big thank you to BetterThanPants.com for turning our dreams into a reality.
A company spokesman told the Mail Online: "We have sold about 100 in just one month since adding it to our site.
"I believe the idea was submitted as part of a contest on ridiculous inventions in Japan but was never actually sold anywhere.
"But this is the real deal, it's a legit product and is proving very, very popular."
So get your skates on, because stocks are low!