An emotional letter from Lord Horatio Nelson to his long-time mistress Lady Emma Hamilton is up for sale.
The letter, which is dated circa 1801, adds insight to the 19th century scandal between the British naval leader and his lover.
In the letter, Lord Nelson documents the turbulent love life between himself and his mistress, referring to a disagreement from the previous evening.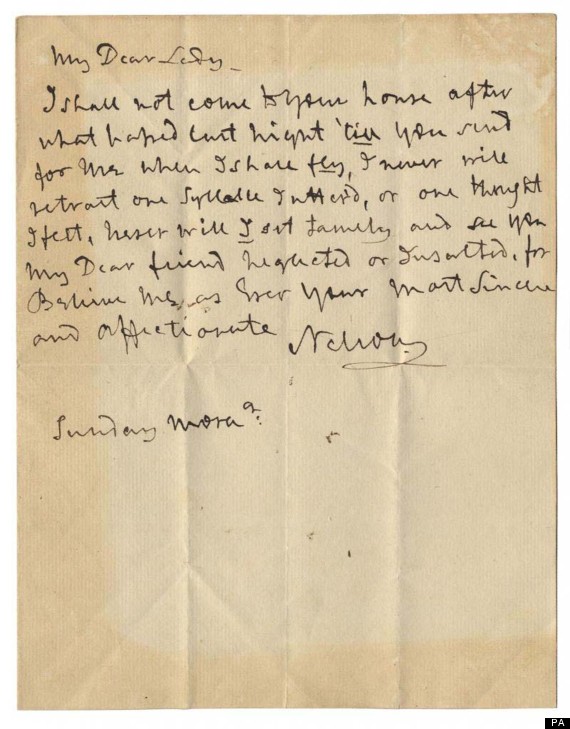 "I shall not come by your house after what happened..."
He takes care to note his devotion to her and vows to defend her integrity amidst the scandal.
At the time the letter has been roughly dated, Lady Hamilton had given birth to their child and their affair was public.
Despite Lord Nelson's wife's demands, he refused to relinquish Lady Hamilton as his mistress and eventually he left his wife.
In the 19th century, this was an unthinkable social affront and he aggravated the scandal further by choosing to live with his mistress and their daughter upon his return from sea.
During the scandal, Lord Nelson urged her to destroy the letters sent between them, as he largely did.
However, Lady Hamilton chose to keep her letters which were eventually published in 1814, contributing to her eventual downfall.
Plagued by politics and social disgrace, their affair lasted only six years before Nelson's death in 1805.
After this time, Lady Hamilton went into a downward spiral.
The letter will be for sale with Bonhams in Knightsbridge on 13 November.
In June a marble chimney piece from Lord Nelson and Lady Hamilton's home sold for £25,000.
Artworks that caused a scandal in their time...
10 Scandalous Moments In Art