Referee Mark Clattenburg will receive the backing of his fellow officials as an investigation into allegations he used "inappropriate language" towards Chelsea midfielder John Obi Mikel, say PA Sport.
Chelsea have lodged a formal complaint with the Football Association after alleging Clattenburg racially insulted Mikel during Sunday's turbulent Premier League clash against Manchester United at Stamford Bridge.
The west London club have submitted a report which contains accounts given by players and staff, who claim the 37-year-old official called Mikel a 'monkey'. Police are also investigating the matter after the Society for Black Lawyers contacted them.
However initial allegations Clattenburg also insulted Juan Mata by calling him a "Spanish twa*t" have been dropped.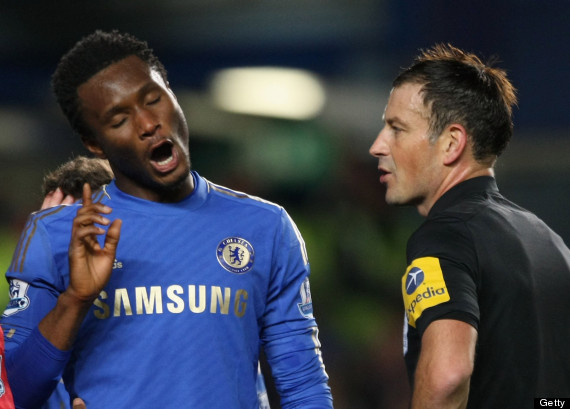 Clattenburg is accused of calling Mikel a 'monkey'
Clattenburg denies the allegation and it is understood assistant referees Michael McDonough and Simon Long as well as fourth official Mike Jones also believe he is innocent. The trio are said to be in unison that they did not hear anything untoward from the referee during the match on their linked headsets.
Despite Clattenburg being miked up, Fifa law prohibits referees' conversations from being recorded.
Clattenburg has been stood down from this weekend's fixtures due to the "intense scrutiny" he has come under in the wake of the Blues' first league defeat of the season.