Ex-Stig Ben Collins is a busy man. So busy he has yet to see 'Skyfall', despite having to step into the pretty impressive shoes of Daniel Craig as a stunt driver in the latest James Bond film.
"Ive been stuck out here working seven-day weeks," he says, "but the bits I have seen looked good."
Collins is currently in Tenerife filming 'Fast and the Furious 6' which is "what you would expect, it's lots of cars and crashing, all that kind of stuff," he says.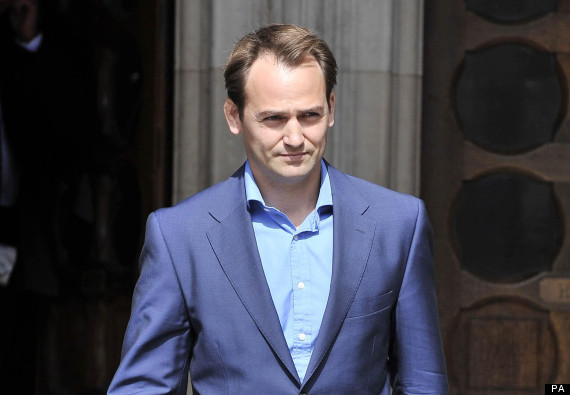 Collins recently filmed stunts for box office smash, Skyfall
"Skyfall is such a class movie. It's just got such a good all-round cast, they really do a stand-up job.
"You really buy into the characters and the story, you stop just seeing stunts as stunts and they become part of the story and I think that's the best way of experiencing them," he adds.
Collins is responsible for some pretty hefty production costs. In just one sequence alone, 15 £35,000 Audis were destroyed. This classic Aston Martin is the four-wheeled star of the latest Bond flick
"They might ask me back if I'm lucky."
Collins spent four years in the British Army, spending some of that time as a special forces driving instructor. With his military background and ability behind the wheel, is he more qualified to play Bond than Craig?
"Ha no, Daniel makes a fantastic Bond. That's what has taken the franchise to the next level."
What about Craig's driving skills?
"He is good, he will always get stuck in with the stunts, but if he could jump behind the wheel and do what I can do, then I'd be out of a job."
Collins does give 007 some credit though. Back in his Stig days, Collins was driven around the 'Top Gear' track by Craig when he was a guest on the show: "I went through with Daniel in an Aston Martin and he shot me through the 'follow through' corner at 125 mph with my eyes closed, which really grabbed my attention."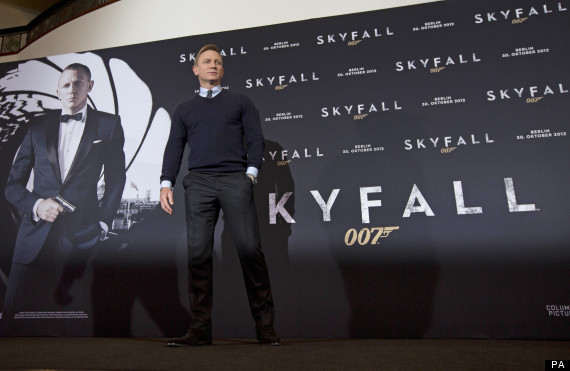 Collins stood in for Craig when the stunts became too dangerous
Collins' journey into stunt driving was a painful one: "In 2007 I was racing in Romania in a qualifying session and took pole position. I broke all my ribs when I got hit into the barrier by the guy behind me."
It was an expensive accident. "The car was a write-off, I had to get peeled out, it was an Ascari, probably about half a million pounds worth of kit," says Collins.
"I was out of racing for a few months but I could still do the precision driving. It was just a fantastic happy coincidence that I got called up to do a Nicholas Cage movie and it just went from there really."
Collins' most famous role was also the one he got the least credit for at the time. Was it frustrating not getting any attention for being the Stig?
"I loved it. I remember being able to watch the presenters getting pestered in nightclubs and bars and I just smirked to myself.
"It was great gig, and, you know the guy that came before me lasted 8 months. One or two years in, I thought, surely I'd be found out and shot off HMS Invincible (this was the watery fate of the previous Stig)."
Collins' anonymity as the Stig did, however, became untenable after his identity became widely broadcast in the media and he left the show, but he got to keep the famous white suit: "It was mine so, yes, I've still got that."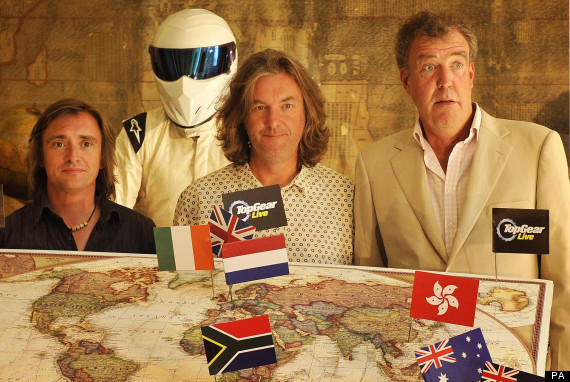 Collins as the Stig with the Top Gear crew
Collins describes the sending off he got from 'Top Gear': "The last day was pretty cool, we had Tom Cruise and Cameron Diaz in the studio.
"Tom did the fastest lap, Diaz was fastest in the wet. I took the fastest lap time with the Bugatti sport and then let Tom take me out.
"He made himself late for the ('Knight and Day') premiere blasting up and down the runway at 155mph. You're only as good as your last day and that wasn't a bad way to go out really."
And what's it like to work with the notoriously outspoken Jeremy Clarkson?
"He blows very hot and cold and doesn't give well to considered opinion.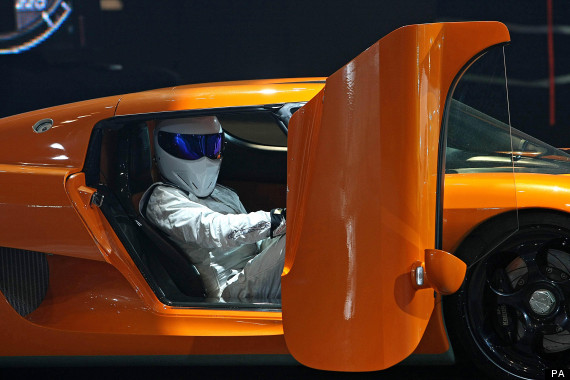 Collins left the show in 2010
"He said I was a greedy twat [when Collins left the show].
"I've not seen him since I left, but I don't really worry about what he's said, neither should Ed Mliband."
The future for Collins, it would appear, is electric.
Collins will be driving for British Gas in the RAC Future Car Challenge (FCC) on Saturday 3rd November which starts in Brighton and ends at the Regent Street motor show, London.
"It's a really cool, innovative thing," says Collins.
"The only thing with electric is that you don't get the sound."