'Twilight' co-stars Kristen Stewart and Robert Pattinson reunited on Thursday to give their first joint TV interview since the actress admitted to romancing her married Snow White and the Huntsman director Rupert Sanders in July.
Stewart has since reconciled with Pattinson, and the couple were joined by co-star Taylor Lautner as they chatted to MTV about the franchise finale, 'The Twilight Saga: Breaking Dawn - Part 2' - WATCH THEM ALL IN ACTION ABOVE.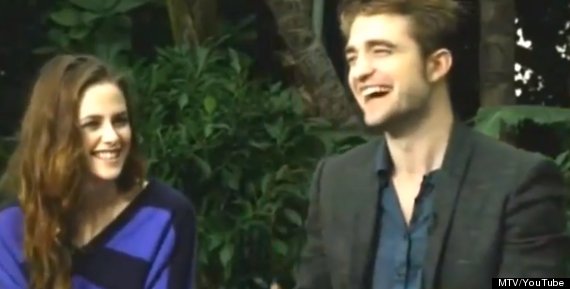 No awkwardness between Kristen Stewart and Robert Pattinson in their first joint post-scandal interview
The famous trio chatted about working and hanging out together, and Stewart jokingly took credit for her co-stars' success, as she was cast first in the franchise and had some say as to who got the other parts.
Breaking Dawn Part 2 is in UK cinemas on 16 November. Pictures below...