We quite often berate celebs for having some downright daft tattoos, but we can confirm that Aston Merrygold's new inking is BAD.
Look, he actually has it written on his arm.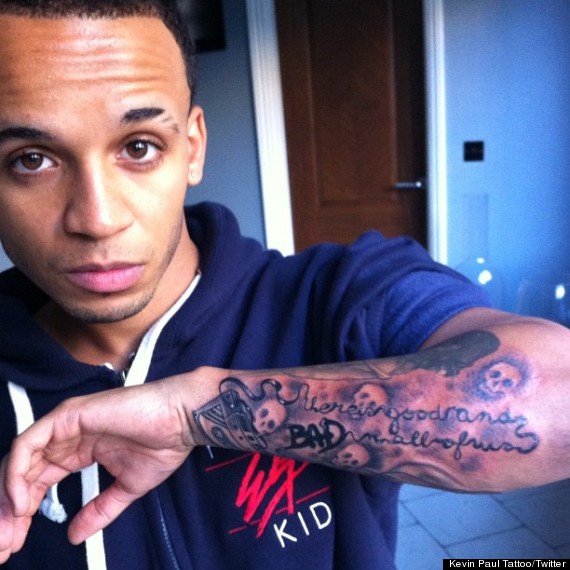 Aston Merrygold unveils his latest inking
The JLS singer showed off the start of his second tattoo sleeve in a photo posted on Twitter by his tattooist Kevin Paul, whose other celeb clients include Harry Styles and Ed Sheeran.
His new inking reads: 'There is good and bad in all of us,' and also features a cassette tape, skulls, and two face masks kissing.
It is thought the slogan is a lyric taken from a song on JLS' new album 'Evolution', but it could also be a tribute to Michael Jackson as the 'Bad' logo on Aston's arm is the same as MJ's 1987 album cover of the same name.
Aston is a well known fan of Michael's, having previously appeared on 'Stars In Their Eyes' as the star in 2002.
JLS also performed at last year's tribute concert to the late singer.
BECOME AN 'X FACTOR' STAR WITH THE CHANCE TO WIN A RECORDING STUDIO SESSION
> PIC QUIZ: WHOSE TAT IS THAT?