'Downton Abbey' has ended on a high, with 10.7 million viewers tuning into watch the finale of the third series.
Last night's instalment of the period drama was the highest-rating episode of the series, which saw US star Shirley MacLaine join the likes of Dame Maggie Smith and Hugh Bonneville.
'Downton Abbey' averaged 9.7 million viewers across the series, making it the highest-rating drama of the year so far, ITV said.
REVIEW: Downton Abbey Finale - Thomas Barrow, Not Out!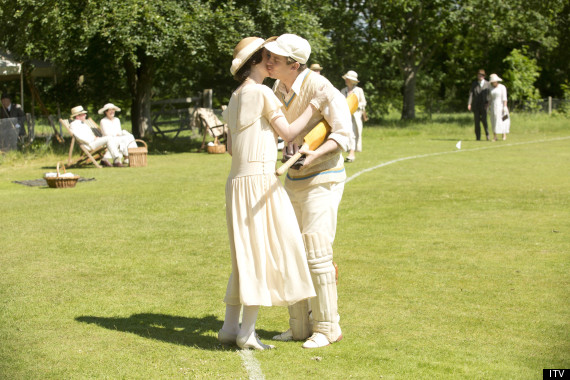 Mary and Matthew in the Downton series 3 finale
BBC One hit 'Call The Midwife' averaged 8.7 million viewers, while 'Sherlock' had 8.3 million.
The 9.7 million average is also the highest for a series of 'Downton,' created by Julian Fellowes, to date.
Last night's finale attracted a peak of 10.7 million viewers and an average of 10.1 million, including viewers watching on the +1 catch-up channel.
Based on average rather than peak viewing figures, 'Downton Abbey' was the most-watched programme on TV last night.
MORE: Rob James-Collier Defends Thomas - 'A Broken Man' - But Admits The Kissing Scene Was Very Pleasant
The second series of 'Downton Abbey' concluded on ITV1 with an average of 10.7 million viewers.
No official announcement has been made about a fourth series of 'Downton', in which a new character appeared last night.
A special festive episode will be broadcast this Christmas.
MORE: Who's Britain's Favourite Screen Butler? See The Top Ten Here
Downton Abbey Series 3 Final Episode 8