Mark Clattenburg will not referee a Premier League match for the second week running amid accusations he aired "inappropriate language" towards Chelsea midfielder John Obi Mikel.
The Professional Game Match Officials Board (PGMOB) confirmed on Monday the 37-year-old's absence was in "his best interests", since he is under investigation by the Football Association and the police.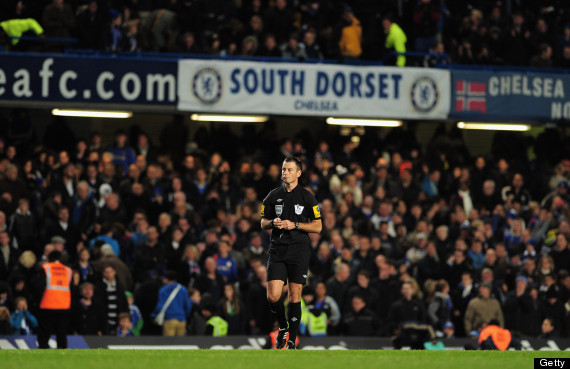 Clattenburg is under police investigation
Clattenburg presided over Chelsea's 3-2 loss to Manchester United eight days ago in which he sent off Branislav Ivanović and Fernando Torres. He was then confronted by a furious Mikel after the game where he was accused of calling the Nigerian a 'monkey'.
Former referee Mike Riley, chairman of the PGMOB, said Clattenburg was ready to officiate this weekend, but the decision to omit him from match duty so he may prepare to help The FA and police with their enquiries.
He did add the "overall morale of the referees remains high" as the officials, who it has been rumoured could boycott future Chelsea managers, show solidarity with the County Durham official.
Clattenburg is due to meet the FA this week after Chelsea filed a dossier to English football's governing body detailing their complaint against the referee.
The police meanwhile were contacted by the Society of Black Lawyers which lead to their own probe into the case.