Mark Clattenburg may have to see a sports psychologist after the intense media attention he has been subjected to in the wake of Chelsea accusing him of racially abusing John Obi Mikel.
Clattenburg was stood down from refereeing any Premier League fixtures at the weekend due to the "intense scrutiny" he had come under, said the Professional Game Match Officials Board (PGMOB).
Having initially accused the 37-year-old of insulting Juan Mata as well as Mikel, Chelsea retracted their claim Clatteburg used "inappropriate language" towards both players, but on Thursday filed a dossier to the Football Association.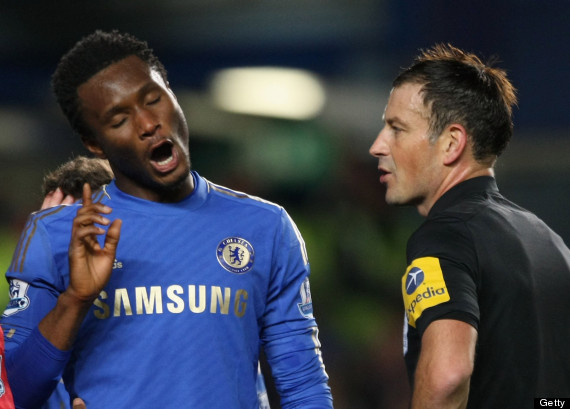 Clattenburg could return to refereeing this weekend
The report, which contains signed witness statements by Chelsea players and staff, details that Clattenburg called Mikel a 'monkey' during their 3-2 home loss to Manchester United in the Premier League.
Clattenburg, who has not spoken publicly since the match last week, is understood to have maintained his innocence and will be supported by the three officials who flanked him at Stamford Bridge. None are believed to have heard a racial slur aired having been mic'd up throughout the 90 minutes.
Weekend reports have potentially shed new light on the row, with Richard Keys and Andy Gray's official talkSPORT account - usually managed by Keys - claiming there is a split in the Chelsea camp over whether Mikel was abused or not.
Mata made no mention in his blog after the game that Clattenburg had insulted him, after it was alleged the County Durham official had labelled Mata a "Spanish twa*".
And on Sunday Hugh McIlvanney revealed in his Sunday Times column sources had told him Mikel was informed by team-mate Ramires he had been racially abused by Clattenburg, having not heard anything.
Ramires' English is still in its infancy, which may cast doubt on what he heard Clattenburg say. He still uses a translator to communicate in interviews, having joined the club two years ago.