They are two of the world's biggest popstars who just both happen to have posted snaps of themselves frolicking about in their swimwear online.
So it would be rude if Rihanna and Lady Gaga didn't have have a bikini-off, wouldn't it?
Gaga was enjoying some rare time-off from her gruelling world tour in South America as she hit the beach.
However, despite usually parading about in next to nothing, it appears Gaga isn't a fan of beachwear.
"Me on the beach today," she tweeted, posting a picture of herself sporting her swimsuit. "I have a fear of swimwear but beer is ok," she added.
Adding more pics on her Instagram account, she wrote: "I fear beachwear but a Starlight reminded me miller light goes all the way."
Meanwhile, Rihanna was celebrating completing her new album 'Unapologetic' by jetting back to her native Barbados.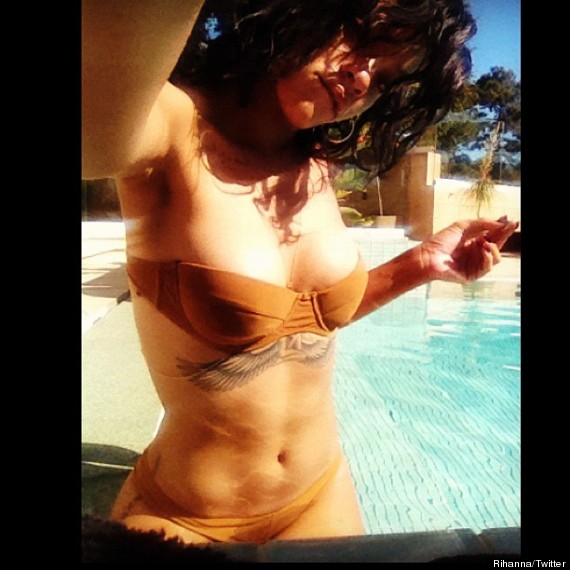 As she lapped up the sunshine in a golden bikini, she tweeted: "We havin a celebration.... WE HAVE AN ALBUM!!!"
Meanwhile, the star is said to have fallen out with pal Katy Perry over her rumoured reconciliation with ex Chris Brown.
The 'Firework' singer is said to disapprove of their rekindled romance and has fears RiRi is making a 'huge mistake'.
A source told the New York Daily News: "They're barely talking and ever since the couple reunited, there has been tension between them.
"Katy has been spending a lot of time with pals Robert Pattinson and Kristen Stewart. Katy fears Rihanna is making a huge mistake and doesn't want to be part of it."
BECOME AN 'X FACTOR' STAR WITH THE CHANCE TO WIN A RECORDING STUDIO SESSION
> IN PICS: BEACH BABES