With their parents rumoured to be plotting a move to New York, life could all be about to change for the Beckham children.
So mum Victoria has obviously been making a big fuss of them and yesterday she treated them to a theme park visit in Florida, where the reports looked far from the family's mind.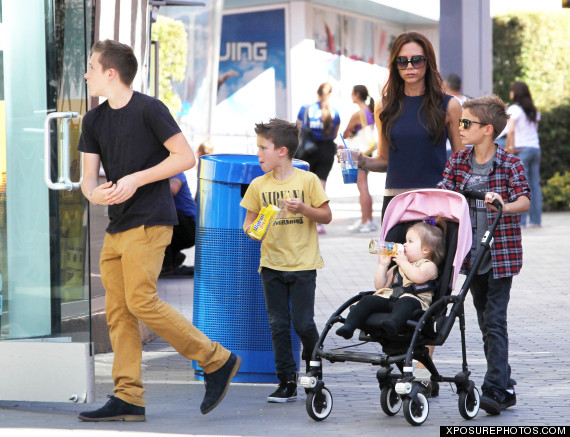 The Beckham family enjoy a day out at Universal in Orlando, Florida
With David absent due to football commitments, Brooklyn and Romeo took it in turns to play the protective big brother to Harper as they walked around the Universal park.
The family are rumoured to be moving to the Big Apple so that Victoria can focus on her fashion range.
It would mean relocating from the west to the east coast of America, quitting their current home in LA, where they moved after David signed to football team LA Galaxy in 2007.
According to reports, Posh has already viewed properties in the city, as well as schools for Harper.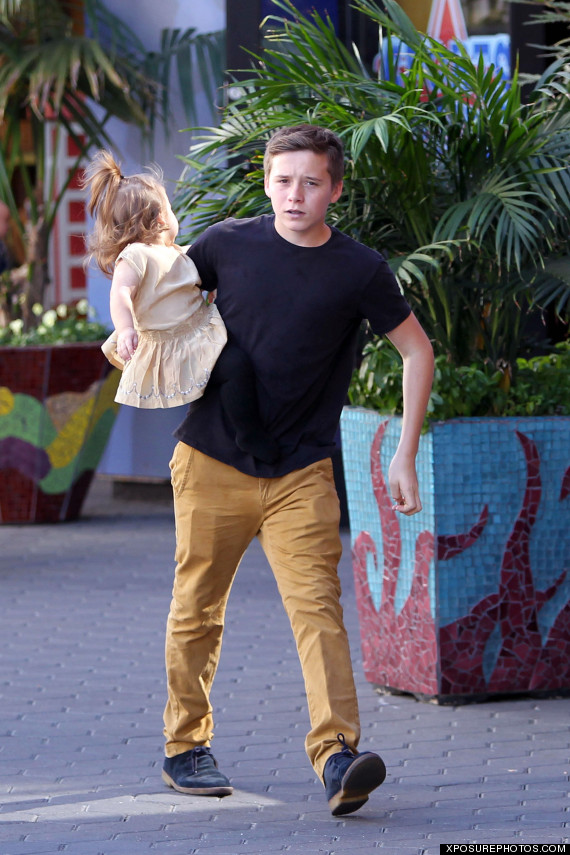 Brooklyn looks after Harper while their dad is away
The Daily Mail quoted a source as saying: "Talks have begun about the next step for the family and New York is one of the options being talked about seriously.
"LA has given the family the outdoors lifestyle that they've loved for five years. But now the children are getting older and the couple both look to the future in their careers."
An insider also told Grazia magazine that David is also considering retiring from football and may explore new business ventures as part of the move.
"Everything is up for discussion at the moment. David may well choose to stay at LA Galaxy, or may leave and retire. There are big conversations to be had," they said.
"Victoria is keen to move to New York to set up her business there and open her first store. She looked at a school when she was there. There are also business opportunities for David, too."
Meanwhile, fresh from being branded 'thick' by New Zealand's prime minister, David has been forced to deny he has landed his own TV show.
Becks was rumoured to have been offered a spot as a US TV pundit fronting a new cable sports network.
However, according to Metro, he has said there is 'no truth' in the story.
BECOME AN 'X FACTOR' STAR WITH THE CHANCE TO WIN A RECORDING STUDIO SESSION