For an artist who deals solely in naked currency, Spencer Tunick managed to give his Day of the Dead project an interesting twist - ghostly veils.
The Mexican holiday, known as El Día de los Muertos, is a yearly celebration that pays tribute to the memory of departed spirits.
Celebrated in Hispanic communities across the globe, the Catholic tradition harkens back to early Aztec practices of worshipping the goddess Mictecacihuatl, or the Lady of the Dead.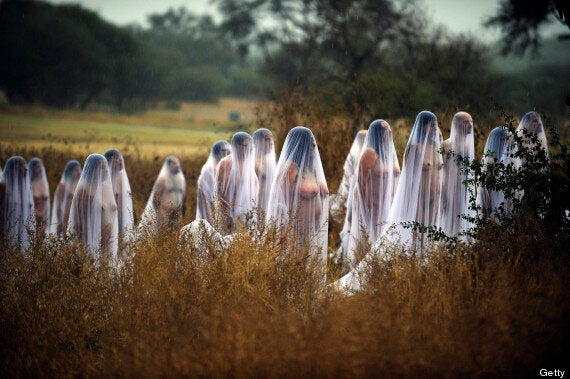 Spooky sights: Naked volunteers in diaphanous shrouds
Spencer Tunick's project saw 150 volunteers strip off and don the shrouds in the village of Los Senderos, Mexico.
The specifics of the holiday include making lavish altars, holding vigils and decorating cemeteries, often involving decadent images of death that take the form of painted skulls, costumed skeletons and vivid folk art.
And now lots of naked people.