Temporary pop up stores are appearing across the UK in a bid to entice customers to impulse-buy presents in the run up to Christmas.
The stores often feature heavily discounted goods designed to encourage passers-by to take advantage of a bargain, but for the businesses they can often result in a much-needed boost in a challenging economic climate.
The ICAEW'S head of enterprise Clive Lewis told Huffington Post UK that small businesses in particular could really gain from pop up stores as, they can negotiate better terms with their landlord, take advantage of the opportunity to extend the lease after Christmas should the trial period be a success, and gain real life experience from customers as to whether their product works in a real life situation.
The novelty value of the pop-up shop definitely helps sales volumes too, and customers are more willing to try brands they've never heard of, thanks to the dire state of the economy and the desire to grab a bargain, he said.
"The idea has really taken root in the UK, and has gone further since (government retail tsar) Mary Portas and Start Up Britain have got on the case," said Lewis.
"The whole point of pop ups is its a way of testing your offer with customers and get their feedback before committing to a long-term lease."
Pop ups are also a way for online retailers to take advantage of a physical presence - Jaana Jatyri, founder of Trendstop.com, told Huff Post UK: "Online retailers such as Net-a-porter and eBay are reinvigorating the pop up concept to create physical points for consumers to interact with their brands.
"The key factor to a successful pop up shop is to create a memorable experience that gets people talking every time they see your brand. Food architects Bompas & Parr and the Secret Cinema have reinvented their genres through the pop up format." A customer uses an eBay instant sale truck in the US to cash in old technology instantly
Adriana Wheatley, head of customer relationship management at SWL Group, told Huff Post UK pop ups brought agility and responsiveness to retailers, creating outlets with strong footfall and a good prospect of converting browsers into customers.
She continued: "For all the marketing benefits of pop ups, their operation has many unknowns and hidden costs in terms of systems, stock, shrink and HR. The cost of sale per unit could be a real issue.
"And of course there is the most important question - 'is a pop up customer a new customer, or my existing customer served in a new location at a higher cost'. We are looking forward to doing more analysis in this area as pop-ups become more important to retailers as a new channel for sales growth."
Richard Perks, director of retail at Mintel, told Huff Post UK it was a win-win for landlords and retailers, as there is a lot of vacant space available, due to the hardships of the recession.
"There's much greater opportunity now, so I wouldn't be surprised to see more retail pop ups this year," he added.
Landlords agree - Helen Franks, commercial leasing director at Grosvenor said they were "very pro the idea of facilitating pop ups".
"It's beneficial for everyone because it creates a new focus for an existing area, drawing in new audiences that might not have thought to come shopping to a particular street. That creates a beneficial knock-on effect for every store on the street," she told Huff Post UK.
"We're also very keen to incubate new brands and a pop up store is a perfect way for both parties to see if the time is right to take on a permanent bricks and mortar location.
"I will always do my best to support growing British brands, for instance, Beulah London (who've dressed The Duchess of Cambridge) are trialling a pop up store on Elizabeth Street until Christmas. It's the perfect solution for both tenant and landlord to form a long term working relationship."
Wolf & Badger, a retail platform for emerging designers, has stores on Dover Street in Mayfair, and in Ledbury Road in Notting Hill. The spaces are designed to offer a new generation of fashion designers a retail space, business and creative consultancy, mentoring, guidance and support.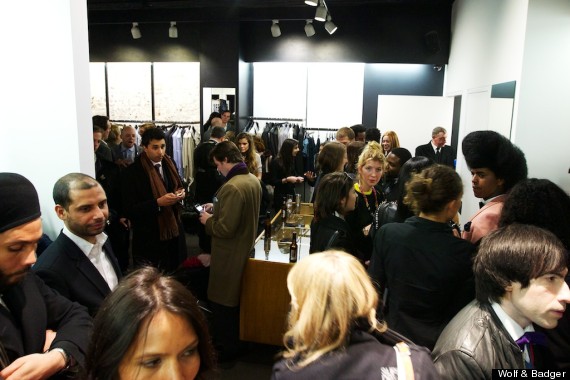 A Wolf & Badger event
Samantha Emson, marketing manager at Wolf & Badger, told Huff Post UK that customers treated the pop-up shops like mini events, and that there was a particular appeal during the xmas period.
"The brands have free reign of how the evening will run with our support; they can invite as many or as few people they wish, depending on how intimate they'd like it to be," she said.
"Numbers attending are anything from 50 to more than 100 - In the Notting Hill and Dover Street stores we have a least one big party every six weeks, with more than 200 guests attending. This encourages footfall into the store, brand awareness and, of course, sales."
Shop Til You Pop
Hundreds of pop up stores are already up and running across the UK - here, some of the companies tell Huff Post UK where they're appearing, why they offer more than just products for sale, and why its so important for their business.
Cardiff
Milliner Robyn Coles told Huff Post UK she would be using her pitch in the Castle Arcade as her first foray into the retail world.
Her pop up will also act as a studio, work space and showroom for all her ranges from bespoke hats, as well as seasonal catwalk collections and bridal ranges.
Everything is made on site so consumers will be able to learn more about how each piece is made, about the fabrics and techniques she uses and exactly what goes into creating her hats.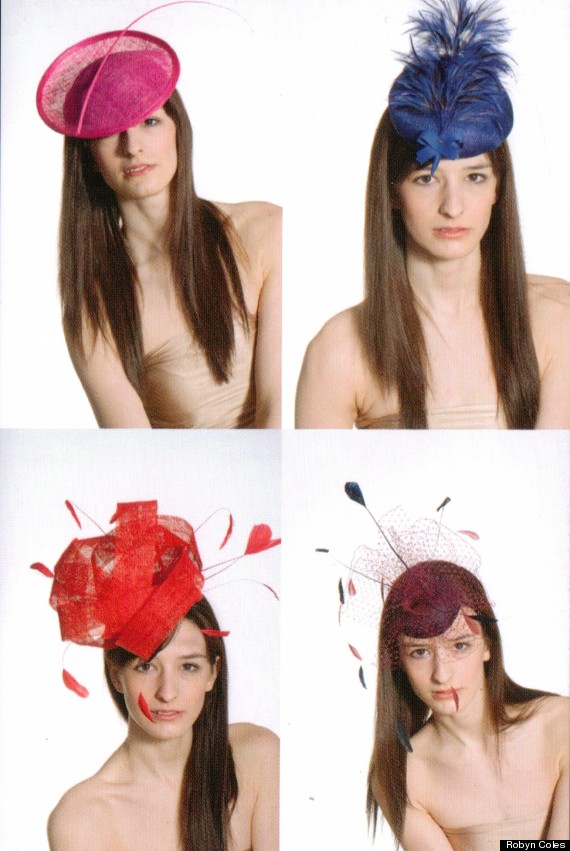 Some of Coles' creations
"My millinery business until now had been based out of my spare room - although I have wholesale clients," she said.
"This is my first stand alone venture. We make everything on site so sit in the shop window sewing most of the time, people stop and take pictures - I generally feel like I am in a zoo!
"It's quite an interactive forum so people can see what goes into making hats."
Fife
SallyJane is selling 'gifts from the sea' at a small pop-up shop in Anstruther, Fife after enjoying retail success with the pop up store in 2011.
"I took the Anstruther pop-up shop for one week last December," owner Maggie Watson told Huff Post UK. "Sales were encouraging that week - much better than the Christmas Fairs I had been attending - and so, I continued to take the occasional week in the same shop during 2012."
Leeds
It's a case of third time's the charm for Out Of The Woods, which is hosting its Out Of Yorkshire Christmas pop up shop in the Granary for the third year running.
Open until 23 December, the shop has been brought back by consumer demand - and will offer a range of Yorkshire Christmas goodies including hampers, speciality cheeses, chocolates and chutneys, as well as traditional festive fare of mince pies, Christmas cakes and lots of other local delights and gift ideas.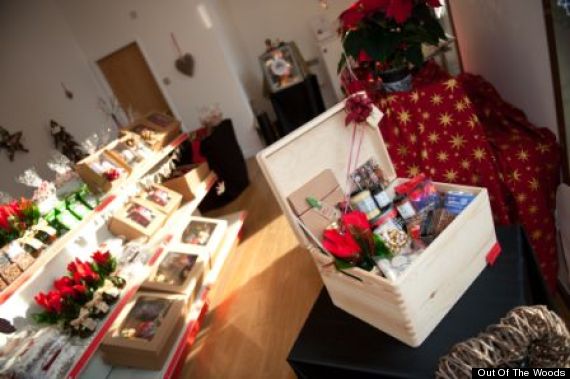 The Out Of Yorkshire pop up
London
Mark Henderson of the New Craftsmen told Huff Post UK he was hosting a pop up opposite the Connaught Hotel on Carlos Place.
"It will focus on the finest British craftsmanship and individually made products – whether as limited editions or bespoke commissions: gifts, jewellery, glass, silver, tableware and so on," he said.
"The 7,000 square foot site will house demonstrations, social and press events, client consultations and retail. There will be two tills and most credit cards will be accepted."
Henderson was part of a successful trial nearby with Calligrapher and Stitcher Rosalind Wyatt in 2011 which convinced him to launch The New Craftsmen using a pop up.
"This gives us an opportunity to test a concept which we plan to launch fully in 2013; we hope very much that this also will be on Grosvenor's estate," he added. His shop will open between 3 and 15 December.
Also hosted by Grosvenor is Fine Cell Work, a company which sells pieces of embroidery and craft work created by prisoners.
On top of selling products, the shop has planned a series of events in-store, such as 'sew-cials' where visitors can stitch tapestries and gain advice from volunteers.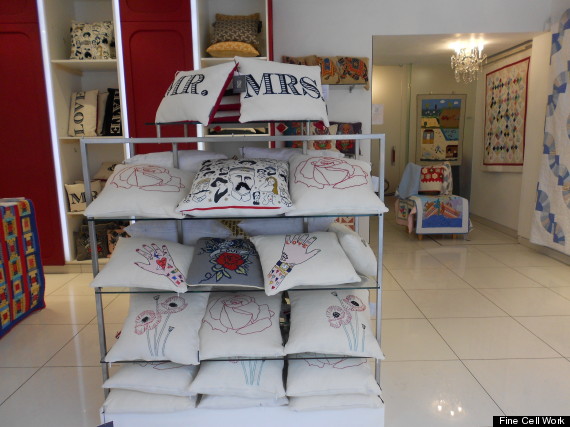 The Fine Cell Work pop up shop
Evening talks by skilled embroiders and designers, such as Wallpaper creator, Claire Coles, will also take place, alongside discussions with ex-prisoners about the beneficial effects of the programme.
Katy Emck, chief executive of Fine Cell Work, told Huff Post UK: "This is an important new departure for Fine Cell Work and in the future we will be having more pop-up shops around central London, selling an increasingly wide range of top quality products made in prison.
"What's become so clear is that the public support this. They like to see the skill and effort prisoners can put into a job. It shows that these men and women are finding a path away from crime and putting back into the community."
Also in London are French patissier Eric Lanlard, who is bringing his Cake Boy boutique to Jumeirah Carlton Tower, Knightsbridge for two days on 14-15 December.
Harrods is also hosting SodaStream's Bubble Break Bar until 11 November, inviting customers to try retro fizzy favourites for free to celebrate the launch of SodaStream Source by Yves Béhar.
Montblanc will also be setting up at Harrods, selling four exclusive products from the writing instrument, watch and haute joaillerie collections.
Kent
Running until New Year's Eve, Flavours of Spain is hosting a pop up store on Rochester High Street, selling Spanish artisan cheeses, charcuterie, rice, peppers, honey and other produce.
Teresa Holmes told Huff Post UK she hoped customers would also be enticed by bespoke hampers and a tapas bar in a room at the back of the store.
And Sian Bostwick jewellery is taking its travelling pop-up 'Emporium' to Whistable for Christmas from 14-20 November.
Somerset
A pop up restaurant by Mulberry founder Roger Saul will be launched from 15 November in Kilver Court - the restaurant, called Stage 1, is created using salvaged British film sets.
Guest will be invited to enter Stage 1 from 'behind-the-scenes' before settling down to dine in the decadence and faded glamour 'on set'.
"The menu for the pop-up has been devised to offer seasonal dishes with a strong focus on locally sourced produce from the area. There will also be an auction with items from the sets with the money going to The Teenage Cancer Trust in the New Year. A donation from each bill will also go to support the Teenage Cancer Trust South West," a spokesman told Huff Post UK.