You may recognise Neil Westwood from an early episode of Dragons' Den – inspired by his work as a hospital trainer, he developed a reuseable, restickable, flexible whiteboard.
Having got the backing of two Dragons, his business soared – but what nobody saw behind the scenes he'd begun his journey touting his wares at trade fairs every weekend.
Take us back to the beginning – where did the idea come from?
I was working full time at a hospital – I joined there straight after university and spent the majority of my career in training.
Then six years ago I got itchy feet and decided I needed a new challenge. For my work, I used to use flip charts a lot and thought 'there's got to be a better way than lugging this huge clip board around'.
So I searched around on the internet and found a guy who made a prototype for my idea, a whiteboard that worked a bit like cling film and was restickable, and reuseable.
The guy in Germany started making prototypes and as soon as we found one that worked, we started marketing it.
I sold all my shares in Alliance and Leicester to fund the business – I don't like getting into debt, but the banks weren't really interested anyway. After I'd been on Dragons' Den they were, although they still wanted my house as a security, which I felt really uncomfortable.
How did you get the word out?
I was working at the hospital for five days a week and then spending my evenings working on the Magic Whiteboard before going to trade shows at the weekends and on every holiday.
I'd been doing this for months and was at a wedding where someone suggested I should take the product on Dragons' Den; so I filled the form in over Christmas and a few weeks later I was invited to come on the show.
How was that?! Was it like it looks on tv?
They eventually got around to filming me in March after weeks of a lengthy interview process, which you don't see on TV. The TV show then aired in August.
Peter (Jones, one of the Dragons) declined early on and ridiculed us on camera – that was out of order I thought – but then later he changed his mind. They didn't show that on air and there was absolutely no way we'd have gone with him, given his original comments.
We did accept Deborah (Meaden) and Theo (Paphitis)'s offer though – Theo was able to give us a distribution channel through his Ryman stores, and we liked Deborah as she offered to help with the online side and the marketing.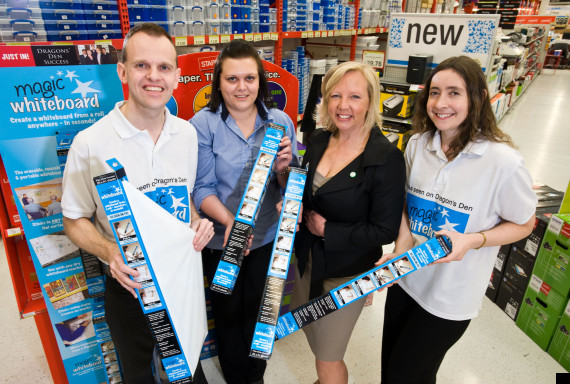 Westwood with Meaden in a Staples stationery store
I gave them 40% in our business for their £100,000 – I'd paid them back within two years; in hindsight, I shouldn't have given away as much as I did – we've made them more money than any of the other Dragons' Den investments – but at the time it seemed a less risky way of getting the investment.
What impact did the Dragons have on your business?
After six months I was so busy I had to quit my job at the hospital and when lorries the size of Tesco ones started turning up on my driveway with deliveries I know I'd have to move the business before the neighbours went berserk.
We moved to a 20,000 square foot warehouse at an industrial estate. Before Dragons' Den we were turning over £45,000 a year, now we've got a sales turnover of £1.1 million, with £300,000 in net profit in the last year.
What hurdles did you face?
Giving up my public sector job was scary. And we faced a real crunch point in December 2009 when sterling devalued by 20% - that hugely affected our profits.
One of the lessons I learned early on was the need to keep costs as low as possible; if you don't, you'll never make any money. You should only spend money on things that add value to your business. A lot of businesses spend lots on advertising, but there's usually a very low return from that.
The biggest costs for us were employing people – I would have employed more staff had we not been in a recession, but I couldn't because we weren't sure if the sales would take-off and be sustainable. We've just had to make do.
The other lesson that's hard to learn is how to keep momentum going. If you work hard, you can succeed in any market – I think sometimes people use this economic crisis as an excuse.
And it's so important to listen to your customers – you need to keep innovating at as low a cost as possible – we heard from our customers that they were using Magic Whiteboards as blinds in their cars and in windows to keep the sun off their kids' faces – so we dyed a bunch of them black and sold them to an entirely new market as reuseable blinds for kids. We made a £100,000 profit, simply by changing the colour of the product.
What's next?
We're already exporting overseas with 20% of our sales going to Australia and the US mainly, although we've just sent some to Columbia, Peru and Mexico, and we've had an enquiry from Russia.
And Theo's thinking about a new role for me – when I last saw him at a board meeting he was telling me that he sees investment opportunities in so many new startups but he's so restricted with his time that he often has to let them go.
He's asked me to assist him, which is a huge privilege; I'll get to invest the profits from Magic Whiteboard in other companies and I'll be able to give them a lot of input as I've been there and done it! Theo will be involved in the final decision making, but basically I'll be acting as a mini Dragon.
Any other advice?
If you work hard you can succeed. I often think sometimes people use the economic situation as an excuse.
There are a few funding options out there worth considering – crowd funding seems to be popular. Investors need to be careful with that though – it's a risky way to buy a stake in a company, but for the entrepreneur seeking investment it's great.
But the best piece of advice I could give someone is to just go and do it. So many people approach me and say 'I've got a great idea', but they're all hot air.
You do need great levels of motivation and there will be knockbacks, but you need to have the strength to work out what went wrong and to try again.