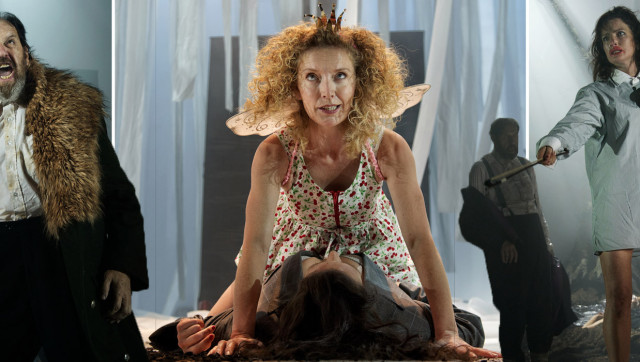 Graeme Braidwood

Our beloved bard has been undressed and scrutinised from every angle for nearly four hundred years.
Stripped bare by readers to reveal the bones of history's greatest playwright, Shakespeare's 37 plays and 154 poems have been reinterpreted in thousands of productions the world over.
Now, quite literally, Shakespeare and nudity come together on stage in Calixto Bieito's Forests at the Barbican. The acclaimed and controversial director brings the London audience a shocking and unique interpretation of the bard's works.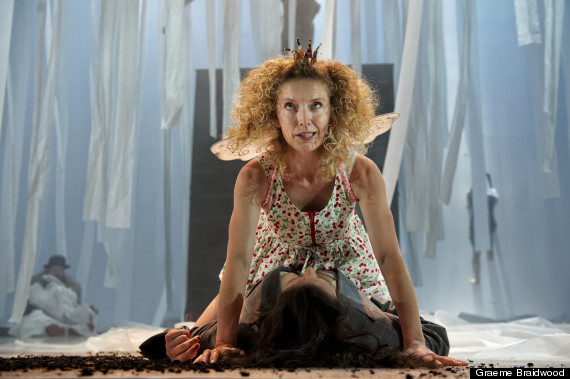 Roser Cami
Composed from original Shakespearean verse, Forests takes us on a journey from As You Like It's forest of Arden through to the bare wilderness of King Lear's cliffs of Dover. Bieito seeks to encapsulate the essence of Shakespeare - the comedy, death, sex, betrayal, joy and rage of the texts.
"With Shakespeare you can do whatever you want," Bieito said at a Royal Shakespeare Company open day in 2006, "all you must do is surprise the audience. The text is not the limit. This is theatre. There is no limit."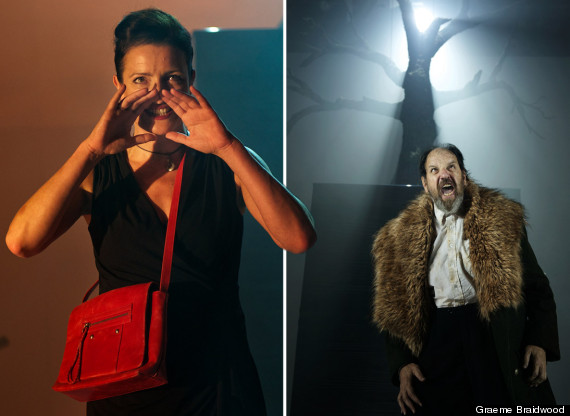 Katy Stephens and Josep Maria Pou
The actors of Forests know no boundaries, throwing themselves around the forest like impish mischievous sprites, reciting Shakespeare's prose and verses, dressing and undressing each other, swapping clothes, swapping genders.
Split personalities revel on stage, each actor a trait seen in the texts: the lover, the fool, the plotter, the mortal led astray. A delight to watch, we are soon scooped up in intense playful chemistry between the cast, with a stand out performance from Hayley Carmichael.
Bieito moves to the bipolar depths of Shakespeare. Forests certainly gets dark: violence, despair, screaming and nudity.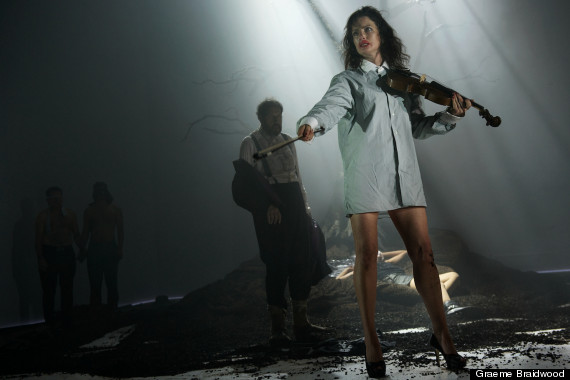 Katy Stephens
The stripping of clothes is shocking, mainly because it features alongside sexual violation and torture. Roser Cami finds herself stapled to the wall by her coat, stripped from the waist down and gagged. In a later scene the actress is topless, rubbing soil into her body, slicing her arms and face with a sword.
Bieito knows how to disturb - apparently proving too much for one patron, who left the Barbican theatre abruptly on the press night.
Shakespeare's work is full of death and rape - why should we be shocked to see it graphically brought to life? Perhaps we have lived with cosy, academic readings of Shakespeare for far too long.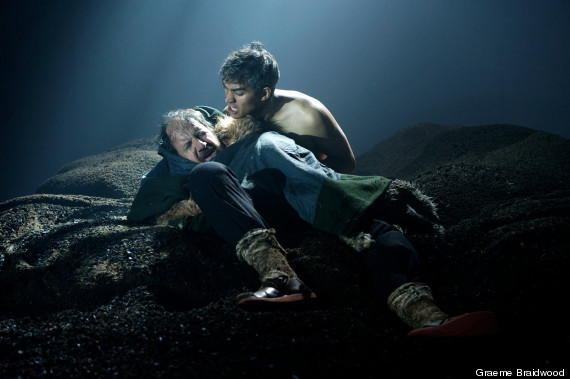 Christopher Simpson and Josep Maria Pou
If William were alive today, what would he say to this controversial interpretation? The inventor of creative controversy would probably not bat an eyelid. With his penetrating gaze at life, death and sex, the playwright was a trailblazer, pushing the boundaries of theatre as far as his era would allow.
Forests is bilingual - the actors switching between English and Catalan. Impressive at first, the novelty soon wears off. What does Catalan add to a performance staged in London?
On first glance, Forests appears a gimmick; condensed Shakespeare with quirky performances designed to shock. But with emotional investment Bieito's vision actually works - reimagined Shakespeare for the 21st Century with unflinching bite.
Forests is running at the Barbican, London, 6 Nov 2012 - 10 Nov 2012.
Watch a film from The Space featuring director Calixto Bieito talking about creating Forests for the World Shakespeare Festival.
Watch more from the World Shakespeare Festival on The Space here.
Take a look at all of HuffPost UK's theatre reviews: