'Skyfall' writer John Logan has explained why he chose to have James Bond sexually intimidated by Javier Bardem's villain character in the latest 007 outing.
Daniel Craig's third Bond film includes a scene in which he's tied to a chair, as former MI6 agent-turned-villain Raoul Silva (Bardem) unbuttons his shirt and Bond responds: "What makes you think this is my first time?"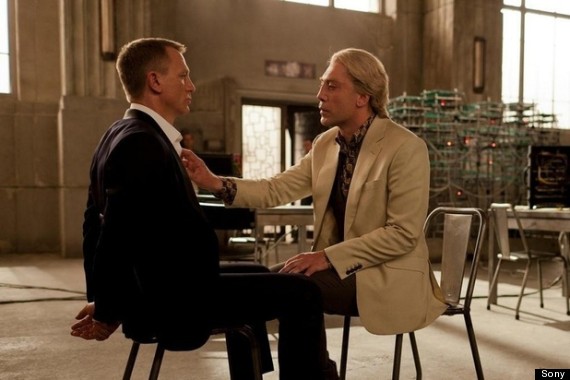 Daniel Craig and Javier Bardem in the scene
Some fans were surprised by the line but Logan doesn't think it should shock. He told the Hollywood Reporter: "Some people claim it's because I'm, in fact, gay but not true at all."
And he added: "Sam [Mendes] and I were discussing... we thought, what would truly make the audience uncomfortable is sexual intimidation; playing the sort of homoerotic card that is sort of always there subtextually with characters like Scaramanga in 'Man With the Golden Gun' or 'Dr. No'. So we just decided that we should play the card and enjoy it."
However, in 'Skyfall' Craig is also seen in a very steamy shower scene with Berenice Marlohe's character Severine. And its unlikely the films will follow that avenue much further or be replacing Bond Girls with Bond Boys anytime soon.
As if any proof were needed of how much 007 loves his women, here they all are through the years...
Who's Your Favourite Bond Girl?