'Dallas' has returned to our screens, and it's like it's never been away. Bobby and JR Ewing are both still proving that some things do run thicker than blood - ie oil, and the money it brings. And their sibling rivalry has been passed seamlessly to the next generation with their sons - Christopher and John Ross respectively - fighting for the future of Southfork Ranch, not to mention the love they share for one girl (Series One of the new series out on DVD on Monday).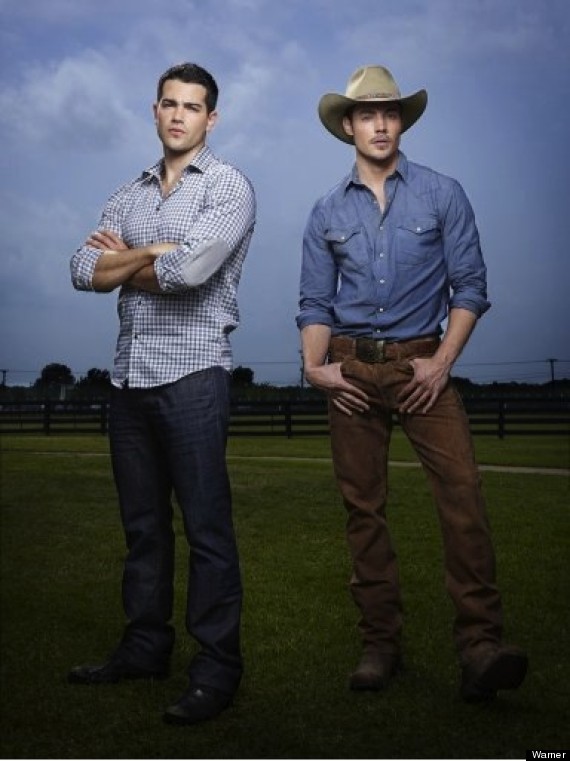 Jesse Metcalfe and Josh Henderson - it's a close-run thing
Jesse Metcalfe and Josh Henderson were plucked from other dramas to pick up their stetsons and play Christopher and John Ross. Metcalfe swotted up watching 33 episodes from the first series, while Henderson caught up with old JR clips on YouTube "to discover how he made him so magnetic". And the pair were used to competing against each other for auditions (as well as in a charity league away from work), so their rivalry came naturally.
Over 21 million in UK tuned in to find out "Who Shot JR"
22 years later, just 3.3 million more watched London 2012 Olympic opening ceremony (24.3m)!!
Larry Hagman is the only actor to appear in all 357 episodes of the original series
A total of 350 million people in 57 countries watched this episode
It Is One Of The Top ten TV moments of all time alongside UK moon landings
The show's popularity spawned the birth of the first ever 'super soap'
'Dallas' has been dubbed into 67 languages and has been aired in more than 90 countries.
Dallas-mania was so big in the eighties, that Dallas Quest, a computer game based on the series was released to keep fans entertained between episodes
UK television executives voted 'Dallas' one of the best all-time imports from the US in a 2004 Broadcast magazine survey.
'Dallas' has been nominated for 79 TV awards in total, and taken home the prize for 40.
But who gets your vote? Josh Henderson's a Texan native, so that must get points, but Metcalfe's Christopher is striving for renewable energy, so that must put him on the side of the angels. And he's got his demons, secretly pining for a woman who's not his wife, not something Bobby would approve of.
MORE: 9 Reasons Why The Original 'Dallas' Was The Best Thing On TV
The spirit level of their rival jaw-lines can't be split, so... the jury's still out. We'll just have to wait for another series, to see who comes out on top. Pictures of them both below to help you decide...
Josh Henderson and Jesse Metcalfe in action - who gets your vote?
The New Dallas Heartthrobs
DALLAS Season One is released on DVD with UltraViolet from 12th November and is available to pre-order now - click here.