*sounds new One Direction photos alert*
Listen up toute le monde. We've got our grubby mits on some new snaps of Harry, Louis, Niall, Zayn and Liam looking particularly handsome and we want to share them with you, just 'cos we're nice like that.
The 1D lads have celebrated winning Cosmopolitan magazine's title of Ultimate Men Of The Year with their very own cover for the mag - the first all male one in it's 40 year history.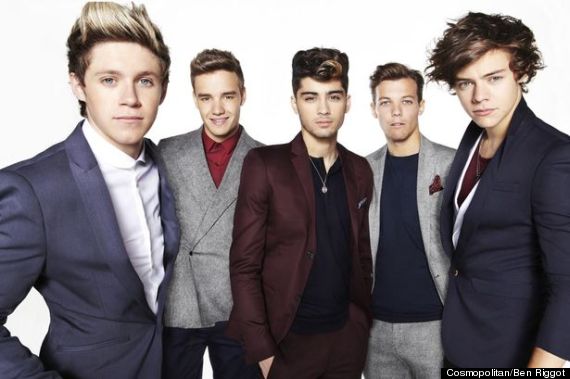 And inside the boys have opened up about their love lives - here are some highlights.
Zayn
Has your girlfriend Perrie helped your confidence? [Zayn is dating Perrie Edwards from Little Mix]
"Yes, I'm a big believer in the motto, 'Behind every great man there's a great woman'. And she's great."
Harry
Does it annoy you when people say you're a ladies' man?
"No. I feel so lucky to be in this position, I'm not entitled to get annoyed. I'm not half as busy as they make me out to be! A lot of the time, the way it's portrayed is that I only see women in a sexual way. But I grew up with just my mum and sister, so I respect women a lot."
Do you have a type?
"There's someone I like... but this girl... isn't my 'type'. It's more about the person. How they act, their body language, if they can laugh at themselves. I find ambition really attractive too – if someone's good at something they love doing. I want someone who is driven."
Louis
You've been with your girlfriend Eleanor for a year. What do you love about her?
"She studies politics at university and when she sits and talks about that, I find it really attractive. I think it's important for both of you to have independence. I feel like if she didn't have that and wasn't striving for a good career, it'd be weird."
Do you worry about her meeting other men at uni?
"She's gorgeous, but no, I don't. We both trust each other – I spend a lot of time out of the country on tour. She often flies out so I see her a lot. I think the key to a good relationship is being best friends too. I spend more time with her and the band than I do with anyone else. She's really great.
Niall
Are you confident with girls?
"I'm not really a flirt, I just try to be myself. I've got loads of good female friends, like Tulisa, but every time I'm pictured with her, people say we're going out. I don't really have a type, but for banter she's brilliant. She loves playing PlayStation. Tulisa is cool as f**k."
Tell us who's the sexiest woman you've kissed?
"Katy Perry. It was amazing and very purple – she had purple lipstick on. I don't think there will ever be anything cooler than kissing her… until I marry her maybe!"
Liam
What's it like reading about the other guys' love lives in the papers?
"Most of the time that's how I find things out! With Harry, everything happens so quickly. Harry is actually quite secretive. He tells us some things, but others he keeps secret."
The December issue is of Cosmopolitan is on sale now and One Direction feature as one of two covers. You can watch behind the scenes footage from the shoot here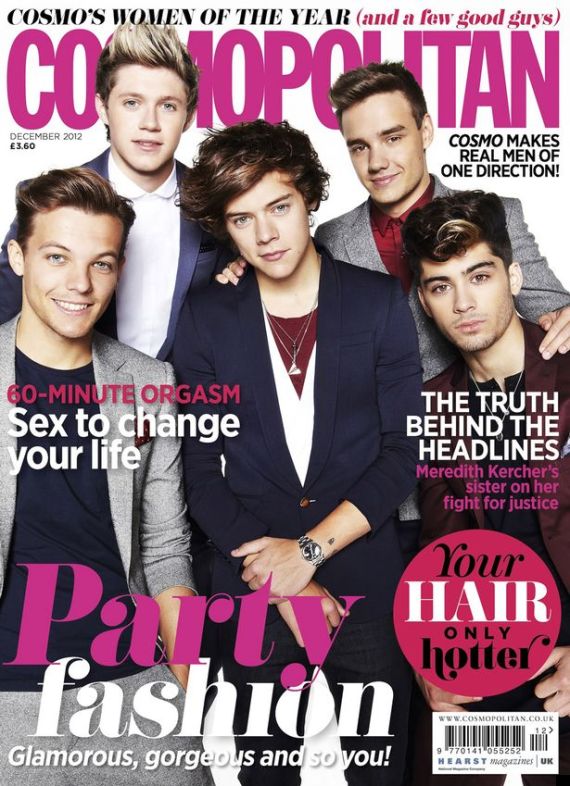 BECOME AN 'X FACTOR' STAR WITH THE CHANCE TO WIN A RECORDING STUDIO SESSION
HUFFPOST UK CELEB ON FACEBOOK | FOLLOW US ON TWITTER
One Direction's Road To World Domination