A toddler was nearly blinded after being attacked by a pet hawk.
Alfie Hall was on a family day out when the bird of prey swooped and gouged his face.
His mother Elysia exclusively told The Sun: "There was blood everywhere. The bird ripped several chunks out of his head, including a big gash right next to his eye which needed stitches. The doctor told us he was lucky not to lose his sight."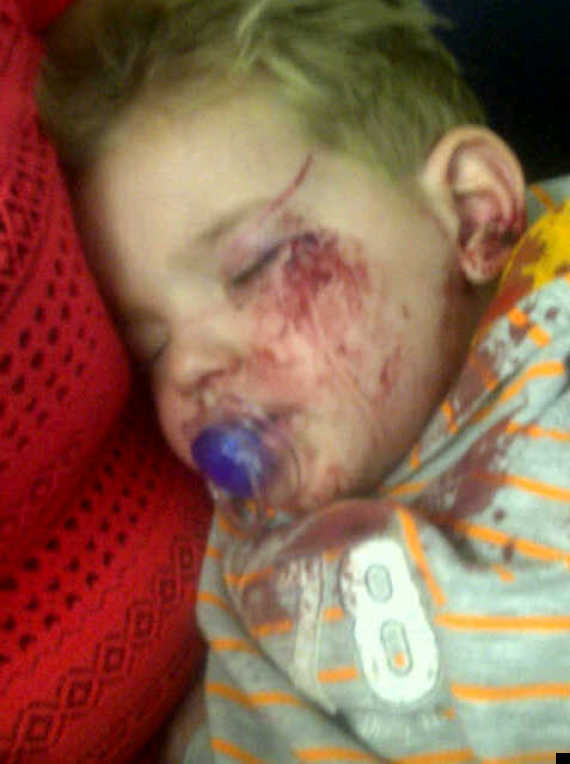 Alfie Hall was attacked during a family day out
The attack took place in a council play area in Farnborough, Hants, where the bird was with its teenage owner.
The Harris hawk apparently ignored its owner's cries and attacked without warning. Police confirmed the teen was arrested and later released.
The attack comes days after a Jack Russell terrier had his tongue torn out by a hawk as he enjoyed a walk with his owner.
Ollie the hound now faces being put down as vets fear he will have to be hand fed for the rest of his years, meaning his quality of life will be extremely poor. The toddler was attacked by a Harris Hawk (file picture)
Owner Ian Farquhar had been walking the four-year-old dog when the attack took place in a park in Dundee.
An RSPCA spokesperson told Huffington Post UK: "Any wild animal kept as a pet is a challenge and owners have a responsibility to ensure they can provide for their needs.
"Hawks are wild animals and not domesticated. They have very specific needs which can be challenging to meet in a domestic environment.
"For example, they have a very specific diet of raw meat and need to be given lots of space. In the wild they fly for miles each day." Ollie the Jack Russell lost his tongue in a Harris Hawk attack