Chelsea and Liverpool's rivalry intensified with the arrival of José Mourinho in 2004. Almost immediately the cocksure Portuguese tried to sign Steven Gerrard, and when the Reds skipper handed in a transfer request the next year, Chelsea was the inevitable destination. Only he swiftly reneged, ultimately depriving himself of that Premier League title he still craves.
In between pursuing Gerrard, a non-whistle, a ghost goal and an own goal were just three flashpoints in the space of five months which came to augment the disdain between the two clubs. Their 2005 Champions League semi-final tie coincided with the general election; Reds versus Blues. The working-class versus the upper-class. The parallels were an obvious focus for features, even though Labour's superiority was not shared by the Merseysiders.
Mourinho and Rafael Benítez, who both arrived at their clubs in the summer of 2004, were two bees happy to buzz in the other's bonnet. Benítez defeated Mourinho in three out of four cup ties whilst the Real Madrid boss managed in west London, but the remnants of those clashes remain.
Ahead of Sunday's clash at Stamford Bridge - where Liverpool have won on their last three visits - here are seven controversial moments since 2004.
MIKE RILEY'S NON-WHISTLE, 2004-05 PREMIER LEAGUE
Jamie Carragher and Mike Riley had a short but significant history when the Reds defender was red-carded for throwing a coin back at Arsenal fans at Highbury during an FA Cup tie in 2002. Carragher was apologetic after the incident but was apoplectic nearly three years later.
When Tiago Mendes clearly handled the ball in the Chelsea penalty area, Riley raised his whistle to his lips before waving play on. Carragher erupted and raised an accusatory finger at the official who almost immediately bore the look of someone who wished they hadn't backed out on their initial instinct.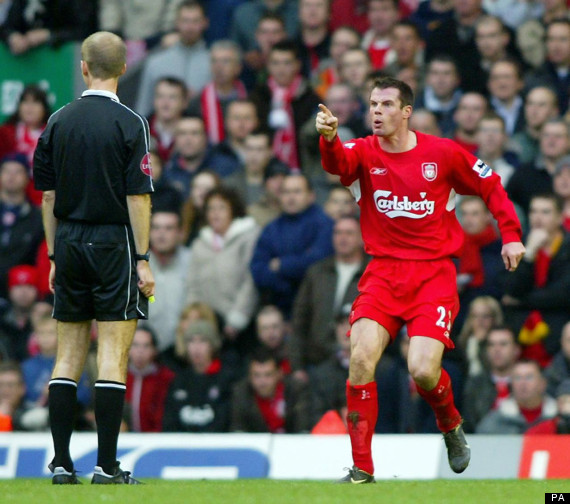 Carragher accuses Riley
"Top games need top refs. And with those mistakes the FA have to ask whether this referee should be up there," Carragher said after the game. Riley's mistake was so wretched Carragher didn't even get charged for his tirade. So luckless was the Scouser that Joe Cole's winner came via a deflection off of him.
STEVEN GERRARD'S OWN GOAL, 2005 LEAGUE CUP FINAL
Those pesky Gerrard rumours weren't helped when he scored for Chelsea in the 2005 League Cup final. Liverpool had lead from inside the first minute via a scorcher from John Arne Riise and were comfortable containing the Blues' sterile possession until the 79th minute.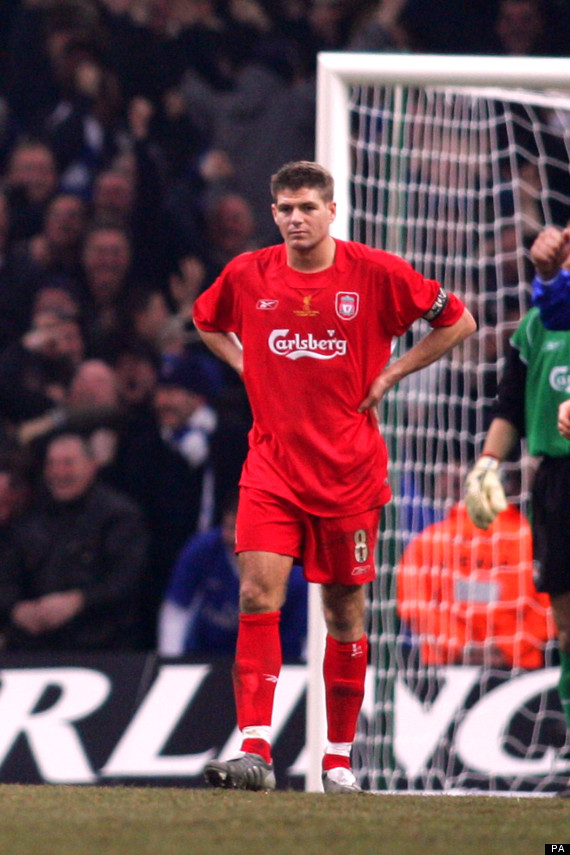 Gerrard is gutted after levelling for Chelsea
It took a long set-piece to breach the Reds rearguard, and the unfortunate soul who flicked a header past Jerzy Dudek was the Liverpool skipper. His equaliser meant extra-time, and Chelsea went on to win their first trophy of the Mourinho era. Radio phone-ins were dominated with barmy conspiracy theories, but it's not like Gerrard was William Gallas.
LUIS GARCÍA'S 'GHOST GOAL', 2004-05 CHAMPIONS LEAGUE SEMI-FINAL
Until their 2012 success, Chelsea were the nearly men of the Champions League. Losing finalists in 2008, they were eliminated four times at the semi-final stage, twice by Liverpool. The first, in 2005, was the beginning of the clubs' "s**t on a stick" era of continental dreariness, but hogged the headlines thanks to Luis García's winner.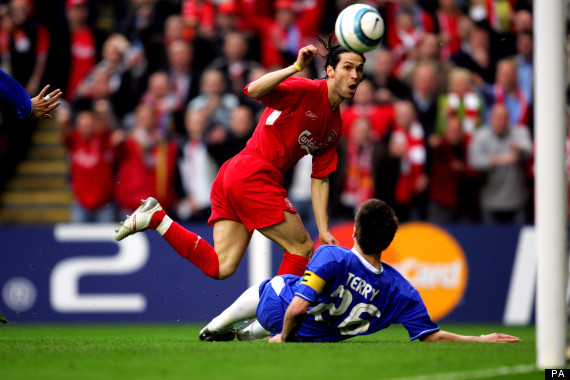 García watches on in anticipation as his effort heads towards goal
It wasn't over the line, even Liverpool fans acknowledge that. But the counter-argument is had the goal not been awarded to the Reds Petr Čech would have been sent off for bringing down Milan Baros and thus Liverpool would have had a penalty. A counter-counter (keeping up) would have come in the form of Chelsea suggesting an advantage had been played anyway. Alas it ended 1-0 and Liverpool went on to become European champions for the first time since 1984.
"The best team lost," Blues boss Mourinho not-so-magnanimously opined after the tie.
MICHAEL ESSIEN'S CHALLENGE ON DIETMAR HAMANN, 2005-06 CHAMPIONS LEAGUE GROUP STAGE
Michael Essien earned a retrospective two-match ban from UEFA after his horrific tackle on Dietmar Hamann compelled the German to describe it as "the worst tackle I've suffered in my career".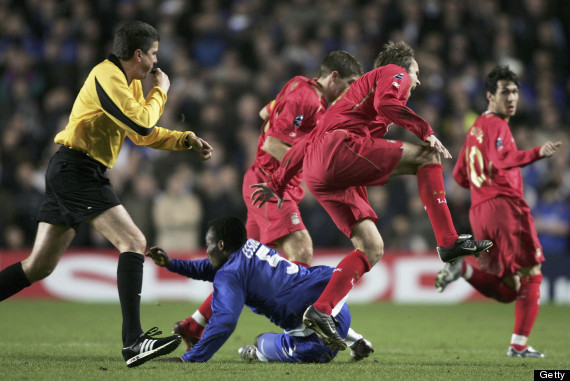 Essien flies into Hamann
The Ghana international caught Hamann below the knee with a studs-up challenge but was not even booked by referee Herbert Fandel in the second tedious 0-0 Champions League meeting between the teams that year.
Essien had earlier that season committed a similarly atrocious foul on Bolton Wanderers' Tal ben Haim and was only yellow-carded by official Rob Styles.
REINA'S RED CARD, 2005-06 PREMIER LEAGUE
Pepe Reina, contrary to popular belief, has not always been the composed goalkeeper some pundits have claimed him to be. This can be traced back to his first season in English football (when he had hair) and his first visit to Stamford Bridge.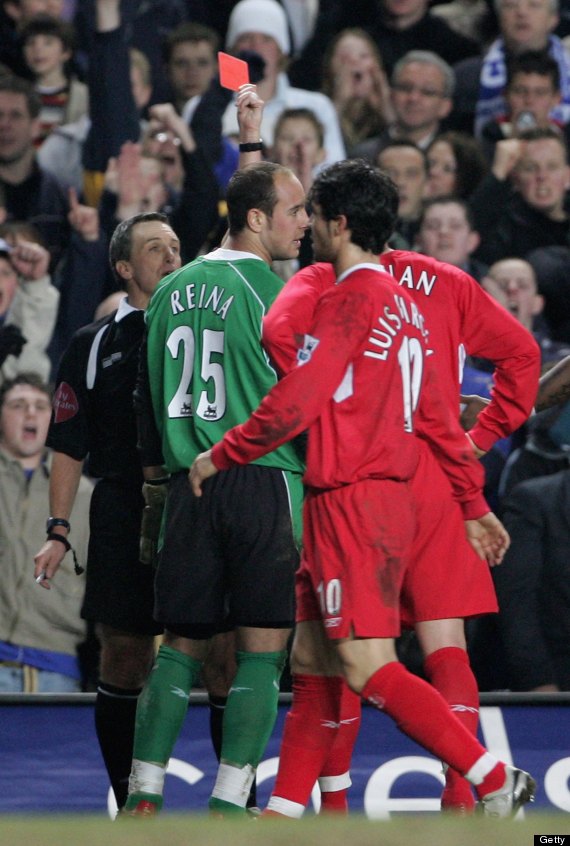 Reina is sent off after his shove on Robben
With Chelsea 2-0 up with 10 minutes to play, a reckless and rash tackle by Reina on Eidur Gudjohnsen by the corner flag guaranteed him a booking, but then Arjen Robben intervened. The lippy Dutchman made a comment to the flustered Reina, who shoved him away. Since his victim was Robben, it lead to the winger collapsing in a heap and Reina was unfairly sent off (it wasn't violent conduct) by Alan Wiley.
"Unbelievable!" he exclaimed. He had grasped English firmer than Robben.
LAMPARD SEES RED, 2008-09 PREMIER LEAGUE
Whereas Mike Riley and Jamie Carragher's Highbury flashpoint was extraneous come the latter's Anfield rap a few years later, Xabi Alonso and Frank Lampard's exchange in 2009 was not.
The needle between the duo stemmed from Lampard breaking Alonso's ankle in that New Year's Day fixture in 2005, sidelining the Spaniard for three months.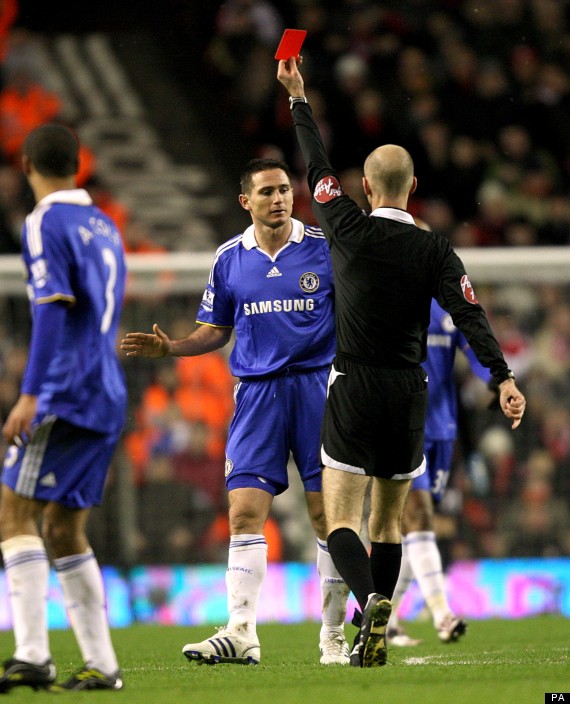 Lampard receives the third red card of his Blues career
"There is always something between me and Xabi Alonso," Lampard admitted a few years later. "When I heard how it had worked out [his ankle injury], I felt very bad and phoned to apologise but he wouldn't really have it and ever since he has that look in his eye when we meet."
Alonso's revenge came via four years on when he milked a soft tackle like a three-course banquet and got Lampard sent off. The referee coincidentally was Mike Riley, who had only booked Lampard for his tougher challenge on the Spain international in 2005. His red card was overturned.
AND CARROLL MUST SCORE... 2012 FA CUP FINAL
Until Andy Carroll's introduction in the 55th minute, this year's cup final threatened to be filed in the one-sided affairs of the 1983 replay, 2004, 2005, 2009 and 2010 matches. The England striker struck to galvanise Liverpool on 64 minutes, as the Reds then proceeded to dominate the remainder of the match.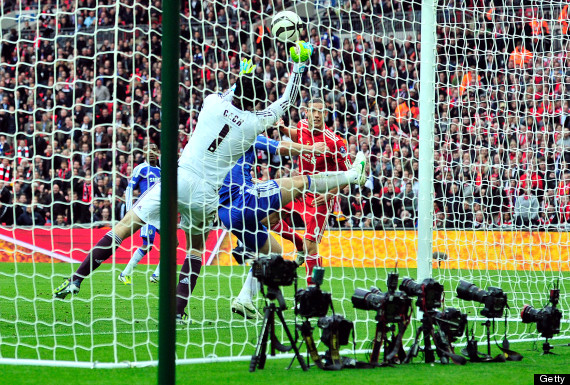 Čech claws Carroll's header away
And they thought they had drawn level when Carroll, who bulldozed John Terry to the extent he appeared intimidated to even challenge him, nodded at goal from Luis Suárez's cross. Carroll should have buried the chance but Petr Čech managed to retrieve the ball before it crossed the line. Or had it?