Manchester City and Tottenham Hotspur was a Premier League fixture which mattered little to neutrals other than stirring memories of the clubs' two marvellous FA Cup encounters. In recent years though it has gained significance chiefly thanks to two things in football which generate ambivalence: money and Harry Redknapp.
Redknapp, despite not winning anything at White Hart Lane, lofted Spurs from their burrow of underachievement despite City's threat after the Abu Dhabi United Group completed their takeover in 2008. It lasted just a season though.
And there are two matches from that brief era we take a look at between the two teams ahead of Sunday's game at the Etihad Stadium...
TOTTENHAM 3-2 CITY, 1981 FA CUP FINAL
Ricky Villa, 1981 and all that. Just enjoy it (and Brian Moore's commentary).
TOTTENHAM 3-4 CITY, 2004 FA CUP
When the FA Cup mattered. City were, for lack of a better word, crap back then and seemingly light years away from the Premier League champions they have become this year. The cup offered escapism not only for them, but for Spurs too, who were also crap and managed by David Pleat.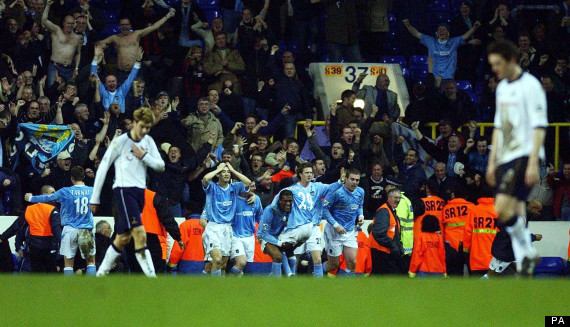 Spurs are dejected, City are elated
The teams' fourth round replay is cliché-ridden (a game of two halves, the underdog triumphing in the face of adversity) but no less enjoyable. Spurs were 3-0 up and a man up at half-time thanks to Joey Barton's idiocy (when it was in its infancy), but goals from Sylvain Distin, Paul Bosvelt, Shaun Wright-Phillips and a stoppage-time winner from former Manchester United trainee Jonathan Macken made for one of the greatest games in FA Cup history. A magnificent save from City debutant Arni Arason at 3-2 should not be forgotten, either.
TOTTENHAM 3-0 CITY, 2009-10 PREMIER LEAGUE
Although Spurs fans will remember their May 2010 at City encounter with greater fondness, their 3-0 defeat of the Blues was, so they hoped, a sign of things to come after a brilliantly dominating display.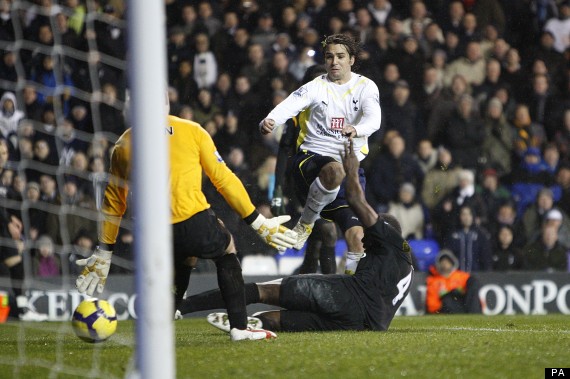 Kranjčar hits Spurs' third
Mark Hughes' penultimate match in charge at Eastlands, his selection of Sylvinho to face Aaron Lennon was tantamount to sending troops over the top. He expected the worst and the worst occurred, as Lennon humiliated the Brazilian en route to a 3-0 victory with Niko Kranjčar bagging a brace. Robinho, then English football's most expensive player, was substituted on 59 minutes after a pathetic performance.
Spurs sealed a Champions League berth in Manchester five months later, finishing one place above City with aspirations to sustain such success. They would not sustain it however, as City's money yelled, let alone talked, the next season.
CITY 3-2 TOTTENHAM, 2011-12 PREMIER LEAGUE
In January last year, some of Harry Redknapp's media chums were fickle and fanatical enough to suggest Spurs were title contenders. As ludicrous as that was, they were a match for City again having been battered 5-1 by the Citizens at White Hart Lane in August.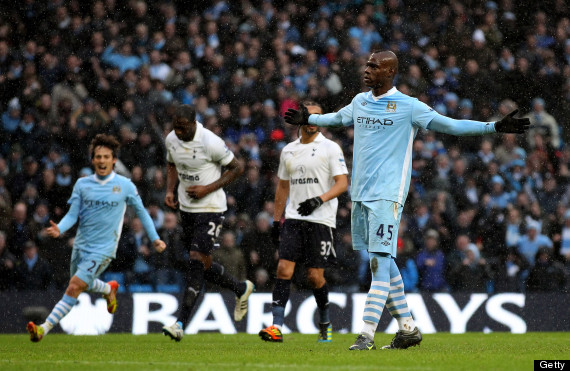 Balotelli doesn't miss
From 2-0 down Spurs drew level thanks to Jermain Defoe's coolness and Gareth Bale's caressed strike. The two should then have combined for a winner, for as needlessly testing as Bale's cross was, Defoe should still have made sufficient contact to beat Joe Hart.
Mario Balotelli, fortunate not to have been sent off for stamping on Scott Parker's face, was then given the opportunity to take the three points for City after Ledley King clumsily conceded a penalty. He didn't miss, but City missed him for three games as he was retrospectively banned for colliding with Parker. The sacrifice was worth it, though.