A baby flashing a beatific smile after heart surgery has become an internet celebrity.
Newborn Joey came round after an operation to repair a hole in his heart - wearing one hell of a grin.
The moment was captured by his mother Sarah Prowling and was posted on Reddit by her brother Matt Tassone.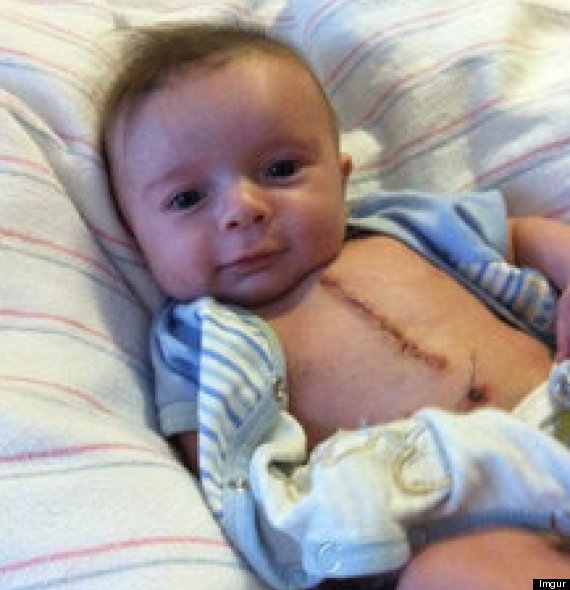 Hats off to baby Joey: The three-month-old was pictured shortly after open-heart surgery
Captioned "ridiculously good-looking surgery baby", the little chap attracted bushels of praise and good wishes and was quickly transformed into an internet meme.
Tassone added: "Chicks dig scars, right?" to a slew of comments suggesting Joey inform future girlfriends it is the result of a fight with a tiger, branding him "the baby Bruce Willis" and "a baby who is manlier than me".
Joey's uncle, Dan Phelps, explains the circumstances of Joey's surgery in an article for the Lowell Sun.
He writes:
"Joey Powling Jr. was born in July with a condition known as tetralogy of Fallot, or TOF, which is, basically, a hole in the heart (although there is more to it than that) and, according to WebMD.com, the most common heart defect in children.
"Luckily, Joey was diagnosed while my niece, Sarah Powling of Dracut, was pregnant, and a plan was put in place to deal with the problem.
"That plan included open-heart surgery when he was 3 months old. The surgery was performed Oct. 25 at Boston Children's Hospital, and it was successful, though Joey and his folks, Sarah and Joe Sr., still have a long road ahead.
"Sarah took a photo five days after the surgery of Joey with a bemused smile on his face - as if saying, "Scar? What scar?" - and with a large incision on his chest and stomach, ending about an inch from his belly button and creating what looks like an exclamation point."