Robert Pattinson certainly seems to be enjoying himself as he promotes the final instalment in the 'Twilight' series.
After slurring his way through an interview with US chat show host Jimmy Kimmel earlier this week (after enjoying 'a little bit of vodka' backstage), R-Patz made a splash on another TV show last night.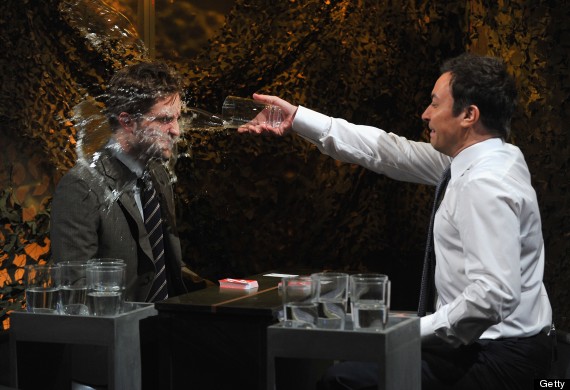 Rob gets a soaking
After agreeing to a game of 'Water Wars' with Jimmy Fallon, the star ended up looking like a drowned rat after the host threw a glass of water in his face.
But Robert didn't take it lying down and soon got his own back by drenching Fallon with his own glass of water.
Well, it beats being grilled by Piers Morgan, we guess.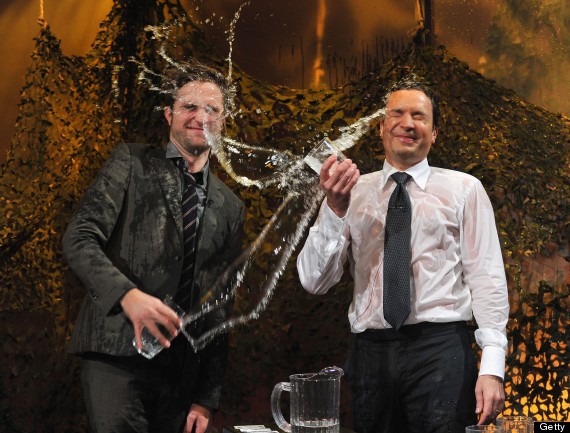 Meanwhile, Robert has spoken out about the depression he suffered for two years as he struggled to get to grips with his worldwide fame.
In a new interview with Premiere magazine, he admitted that it got so bad that he considered taking a break from acting altogether.
"I went through a big time of depression between 23 and 25," he told the mag.
"I couldn't go where I wanted to go, I was in the tabloids every day and I didn't have access to the roles I really wanted. I wanted more, on every level.
"I finally realised that you needed to earn this change I so desperately wanted. That one way or another, you had to suffer to be able to make it.
"I thought everything was going to be served on a plate, but that's not how it works."