Rising food bills played a big part in today's inflation jump, although in the case of chocolate bars it was a case of less meaning more.
The Office for National Statistics (ONS) said consumers were getting less for their money after a number of confectionery products reduced in size.
This is treated as a price rise by statisticians, even though the price has stayed the same.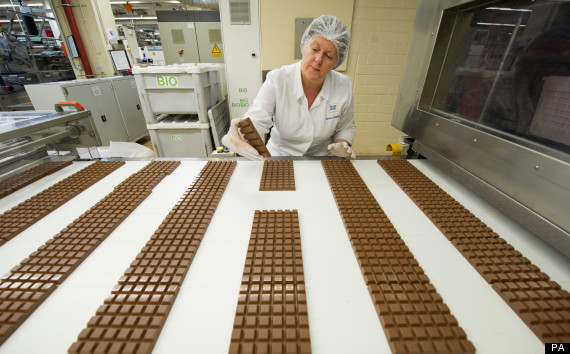 Chocolate bars are the latest casualties of rising production costs
Sweets giant Cadbury recently decreased the weight of its Dairy Milk chocolate bar from 49g to 45g while continuing to charge 59p.
It relaunched the bar in a new curved shape and said the decision to reduce the size had been taken in the wake of rising fuel and cocoa prices.
A spokesman for consumer magazine Which? said shrinking products could be an underhand way of inflating prices and called for pricing to be clearer and the food companies to make any changes obvious to their customers.
But it was not just those with a sweet tooth that saw their food costs become more expensive. The price of potatoes was up ahead of Christmas after the unseasonably wet summer saw yields of old, new and baking potatoes fall, with one survey showing the October price of a bag of Maris Piper potatoes had doubled from £1 to £2 year on year. Meanwhile, carrot harvests have also been adversely affected by the prolonged period of rain.
The ONS also said that there had been price increases on a number of other everyday goods including fruit, meat, milk, cheese and eggs.
Howard Archer, chief UK and European economist for IHS Global Insight, said food prices could well rise higher still, largely due to recent poor grain harvests, which would weigh down on consumer purchasing power.
Rob Harbron, economist at the Centre for Economics and Business Research, also said global food prices were expected to rise further in the coming months.