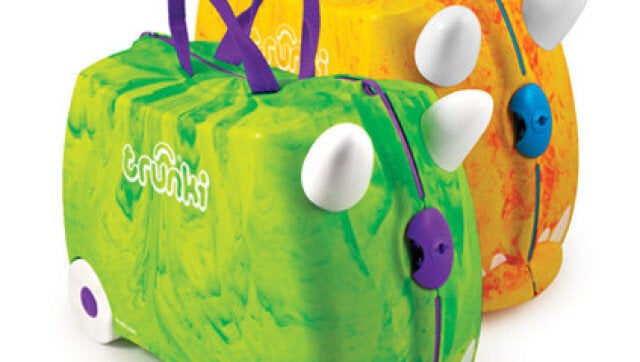 Many of Huff Post UK's readers will have seen, bought and tripped over Rob Law's products – he's the designer and owner of Trunki suitcases.
One of the few people to emerge from Dragons' Den with some cash, Law tells Huffington Post UK about his business' humble beginnings, meeting the Queen with a corgi-shaped Trunki, and how a ban on kids' hand luggage almost destroyed his product.
Where did your entrepreneurial spirit come from?
I started making my own furniture range at university – I'd studied an industrial design course at Northumbria University and made furniture at home in my spare time.
Growing up, I'd watched my dad run his own business as a retail interior designer, but he was such a workaholic it actually put me off running my own business for a few years.
Then in 2001, no-one was employing product designers full time any more, so I had a lot of free time on my hands, which is where I came up with the design for Trunkis.
You found it difficult to get them up and running though, right?
Yes, initially I wasn't sure if I should license the design to a toy company or a luggage one, but by 2003 I'd signed a global licensing deal with a new start-up toy manufacturer – although it wasn't terribly successful – after three years I'd only had one customer in Saudi Arabia.
Then in October 2005 that company went into liquidation, and I thought this was probably the opportunity to do a better job myself. I was also working as a design consultant, but wasn't making enough in royalties, but at the time it did fiven me an insight into branding.
I decided to take Trunki back and sold it as a lifestyle product to parents. In six and a half years we went from selling 450,000 units to 1.5 million, and we now export to 96 countries, have won 70 awards and all with a team of just 25 people.
We filed last year's accounts and for the 10 months to the end of the year we made £5.4 million. We think for 2012 we'll post £7m in revenue.
Did you seek any outside funding?
I got my first funding from the Prince's Trust – I was awarded a £500 grant and a £400 loan. I also took out a personal loan of £20,000 and borrowed money from my family.
After six months we had enough trading history to go to a bank, so we went to HSBC and took out a couple of small loan guarantees at £50,000 and £75,000 – that sort of loan doesn't exist anymore.
After another meeting with the bank later, we got a trade finance package which meant another £350,000 in a loan.
Later, when we developed the idea for a car booster seat, we needed significant funding and turned to angel investors – originally the bank was going to support half of the money we needed with debt, but that was thrown out about a week before Lehman Brothers collapsed (in 2008) – six months later, we secured a private investor.
We've had our frustrations with the banks but that first trade finance package really helped, now there's no way they would offer something like that.
What were the most important lessons you've learned?
We've had a fair few knockbacks on the way up, such as when one of the factories we use in China went to the wall. With just 25 staff, we outsource an awful lot, but it can be difficult.
In 2008, we were almost scuppered by the ban on children's hand-luggage – we sat down and came up with the idea for children's car seats, which double as rucksacks, and by diversifying we survived.
We've now got five lines, the suitcases, the car seats, swing bags, snoozy head travel pillowsand blankets, and paddle pads.
Then there was the theatrical period of being on Dragons Den – the lesson learned there was that you need thick skin and to be able to react to curve balls – you can't sit back and wait for the situation to change.
What do you consider to be your biggest success?
My big highlight was meeting the Queen and getting my MBE in March 2011. She said to me, 'Ah yes, you make the children's suitcases'.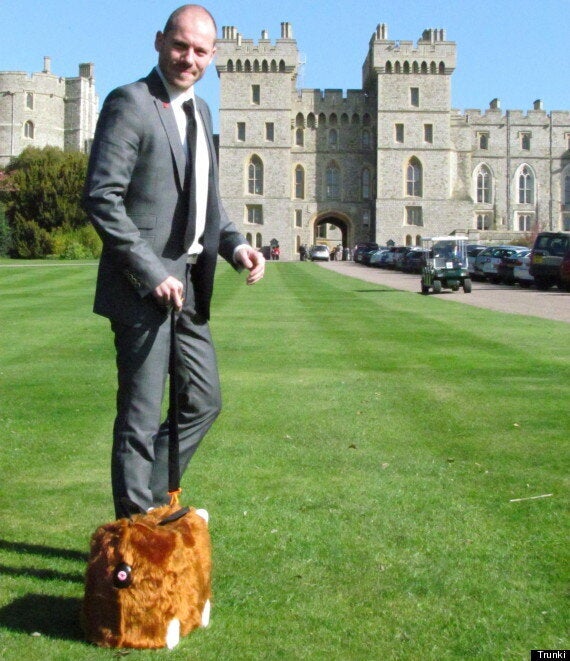 The Corgi-shaped Trunki, with Law, outside Windsor Castle
We actually made a corgi one with a fur coat for the occasion, and had a few snaps with the Queen's actual corgis.
What advice would you give to new entrepreneurs?
You have to realise that business isn't easy, otherwise everyone would be doing it.
You need broad shoulders, and you have to be driven – and if you can innovate, you'll always have one over the competition.
Moaning about your problems won't help – you just have to go out and solve them.