Prince William has praised mountain rescue teams for their continued efforts to find missing toddler April Jones.
In a letter to Mountain Rescue England and Wales, the Duke of Cambridge thanked the rescuers who turned out in Machynlleth, the BBC reports.
The 30-year-old wrote: "I am time and again made to feel so proud and so humbled by our rescue teams - the lengths you go to in your work, your commitment to the job, and your extraordinary professionalism. April Jones went missing on October 1
"This was as evident as ever in the recent search for little April Jones, who was so awfully taken away from her family.
"I know that you did everything in your power to find her."
The prince qualified as an operational search and rescue captain in June this year and was at one point on standby to join the search, The Mirror said.
April, who suffers from cerebral palsy, was abducted from the town's Bryn-y-Gog estate on October 1.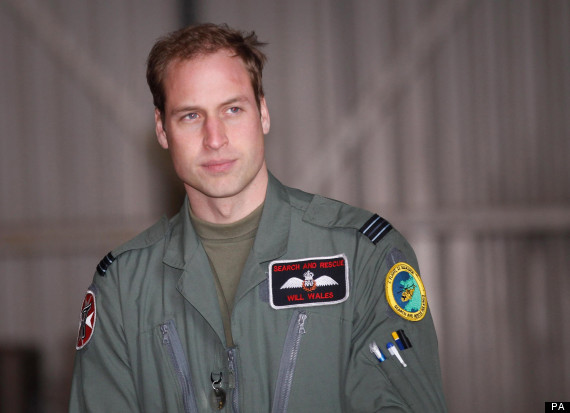 Prince William, pictured here in his RAF uniform, is a qualified operational search and rescue captain
She had been playing out on her bike with friends on the evening in question as a treat for getting a glowing school report.
She was last seen getting into what is believed to have been a Land Rover Discovery which stopped on the estate.
Local man Mark Bridger, 46, was arrested the day after and his Land Rover Discovery seized for forensic examination.
He was later charged with the abduction and murder of April and perverting the course of justice by disposing of her body.
Bridger later appeared at Aberystwyth Magistrates Court for the first time, one week after April's abduction.
Anguish at the struggle for progress in finding a child's body in the sprawling terrain around Machynlleth remains an open wound in the community.
Yesterday Superintendent Ian John, who is leading the search, told Wales Online specialist teams are now focusing on Dyfi Forest.
He said: "The key message from us is that the search carries on at the same level as it has done for the past few weeks.
"We've still got a number of search areas to investigate but at the moment teams are primarily working in the Dyfi Forest. We are not searching the river actively now, the coastguard have stopped doing that, they have adequately searched the water as much as they can.
"Instead, it's primarily the woodland areas, the old slate quarries and the fields which are the main focus of the operation now."
Comments are closed on this entry for legal reasons.