A man who devoted his life to making himself look like a tiger has died in an apparent suicide.
Dennis Avner, who preferred to be known by his Native American name "Stalking Cat", was found dead at the age of 54 on November 5, the New York Daily News reports.
The cause of death has not been released, but it is believed Stalking Cat took his own life at his home in Tonopah, Nevada.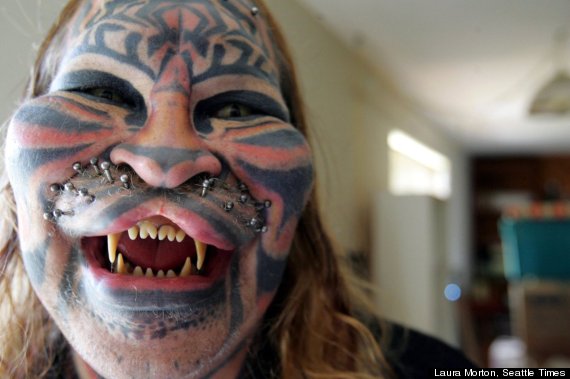 Dennis Avner was known as 'Stalking Cat'
A former U.S. Navy veteran-turned-programmer, Stalking Cat had "felt his spirit...called to the wild and [had] made it his goal to modify his body in honour of the tiger," his totem animal, says Jodie Michalak of About.com.
On hearing the news, his friend, Shannon Larratt, blogged: "Dennis's boundary-breaking life was never an easy one, and as he was fond of saying, he 'found fame, but never fortune'. A wonderful and complex person, he was at times as troubled as he was remarkable."
He adds Stalking Cat had transformed himself into a female tiger, "blurring and exploring the gender line as much as the species line."
According to the BBC, Stalking Cat had undergone an operation to give himself a feline cleft lip, and another to achieve a flat, upturned nose. He also had brow implants and had his ears elongated.
He fixed synthetic whiskers to his face every morning via piercings on his lips.
If you've been affected by the issues in this article, please call the Samaritans on 08457 90 90 90.