Brightly-coloured scarves, woolies, dogs in snoods and swinging your beautiful, size 8 partner around while looking cool in your neon skinny jeans. So far so Gap.
But wait, there's a familiar face...oh it's Michael J Fox! Snuggling up to wife Tracy Pollan! This is an example of "true love", Gap tells us. Ah brilliant. Ooh, there's rapper Nas and his father blues musician Olu Dara (fatherly love), andisn't that Rufus Wainwright and his husband Jörn Weisbrodt (married love....HANG ON, isn't Michael J Fox married??)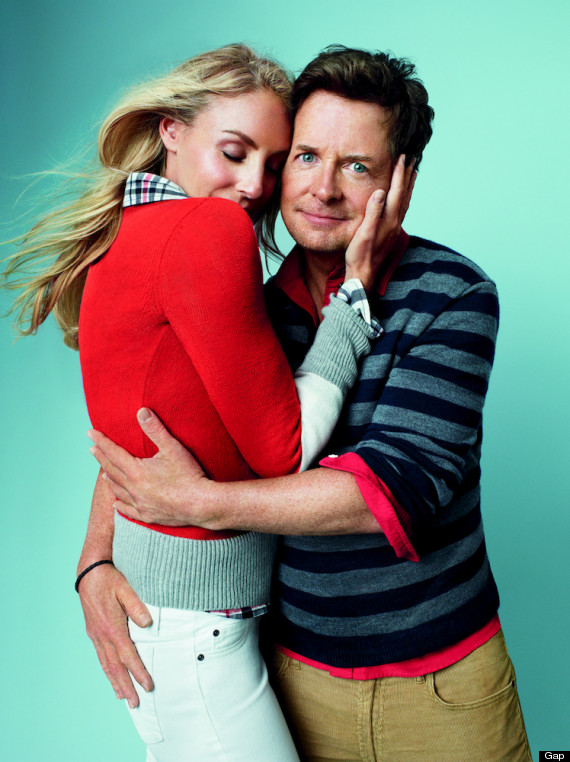 Ah look! It's Michael J Fox snuggling up to wife Tracy Pollan!
Yes, this is Gap's offering of winter woolies as modelled by a host of big names, all of whom demonstrate a different "shade" of love.
Other famous faces involved include: the cast of NBC's 'The New Normal' (modern love); actress Aubrey Plaza (self love); actress Haley Bennett, mother Lani Bennett and grandfather Thomas Keeling (family love); actor Jack Huston and his dog Orso (puppy love); director Gia Coppola and actress Nathalie Love (best friend love); bandmates The Atomics (sibling love); and actress Diana Garcia and musician Greg Rogove (in love).
Seth Farbman, Gap's Global Chief Marketing Officer, told PR Newswire: "This campaign features some well-known actors, musicians and their loved ones, all wearing clothes from our new holiday collection.
"Their personal relationships help remind us that every family is unique and often goes beyond just those we're related to--it also includes the people we share our lives and deepest passions with. This campaign celebrates these diverse, optimistic views on family and the many forms love can take."