The seven decades of Dorothy Bohm's photographic career exist in a number of neatly-labelled boxes, stacked on a few shelves in her London home. I'm stood looking at them while the 88-year-old bustles around, digging out black and white prints and telling me when and where she took them.
"I remember every photograph I take", she tells me, proudly flipping through A World Observed 1940-2010, the latest in the 14 books which have been printed about her career. "There's a whole life history here" she says.
One of them is a shot of a naked woman cut-out, propped up against a window of a shop in Camden, North London. It is part of Women In Focus, Bohm's latest show, opening at the Museum of London.
Bohm explains: "They wanted to do something with my work and women. I chose the name, Women In Focus, and the images range from those taken in 1997 to just a few months ago."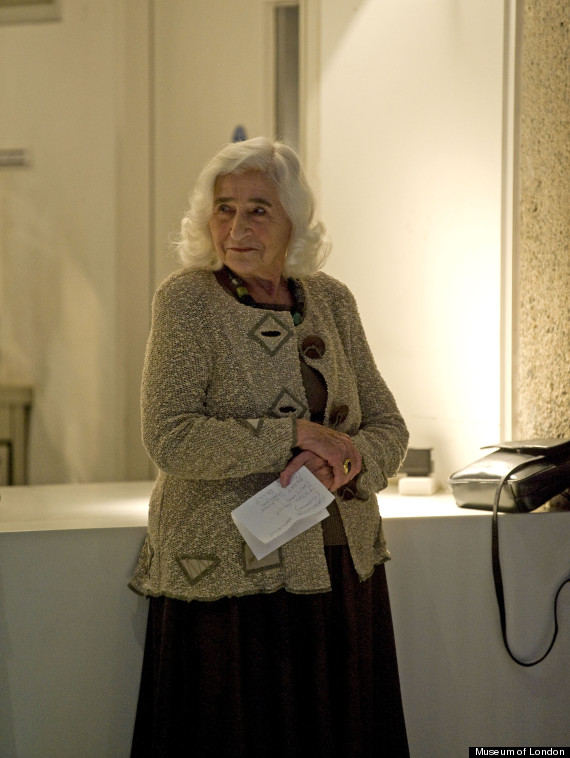 Bohm has been working as a photographer since she was 19
If it's surprising that she's still working hard in her eighties, it's probably because she's been doing it all her life; forced into survival after she lost her parents to the Holocaust.
Born in Konigsberg, a city in East Prussia which "doesn't exist any more", she came to London as a 14-year-old to escape Nazi persecution, a few years before her parents were taken to labour camps.
"As I was saying goodbye to my parents, not knowing I wouldn't see them again for 20 years, my father took off his Leica and handed it to me while I was already in the train. He said, 'It might be useful to you.'"
"I was puzzled because I wasn't interested in photography. But I thought, maybe it was an expensive thing, I may need to sell it, which I did. I had to sell it later."
Photography became a way for her to survive financially, beyond the selling of her Father's camera. A fluke of luck saw her apprenticed to a female photographer Germaine Kanova.
"I was most impressed by her, a marvellous interesting woman and her work was fascinating. She'd photographed many many famous people, also done landscapes and still lives."
But the Blitz interrupted this plan: "for two weeks I stayed in London during the bombardment. There was no anti-aircraft, there was no defence of anything, and the bombs rained down. You have no idea, even now, of the courage of people and the kindness - the Londoners behaved fantastically."
Shortly after, aged 16, Bohm moved to Manchester to study technical photography. By the time she was 21, she had her own studio in the post-war Northern Town and was making enough money to support herself and her husband's studies.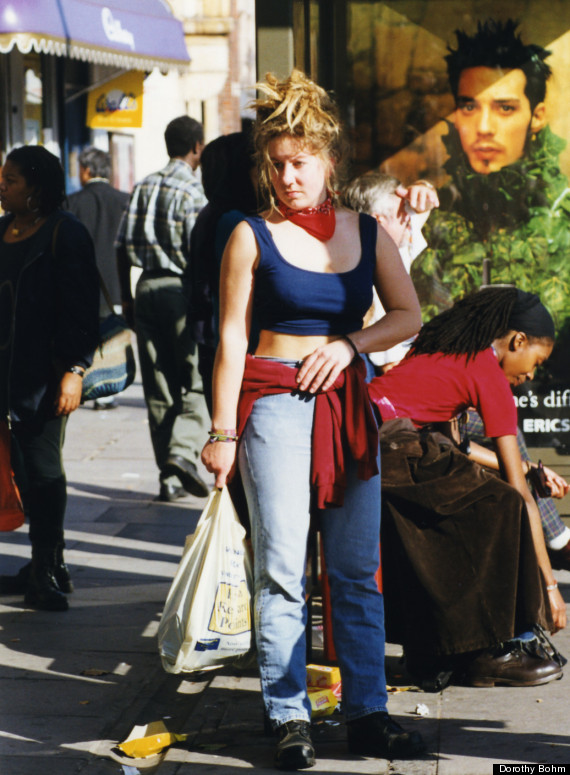 This shot from Whitechapel Road, 1997, features in Women In Focus
Cross-continental travel followed, including a life-changing trip to Switzerland. "I started to really become a photographer. It was really fantastic. And I didn't look back." In 1969, she put on her first exhibition, People At Peace - a show at London's ICA which reinvented photography's presence in London.
"That was the very first time, aside from Beaton at the National Portrait Gallery, that photography was given a showing. I was lucky, I was friends with important people."
"At the time, the interest in the show was so enormous that there were calls for a photography-specific gallery."
The result was The Photographer's Gallery, which Bohm set up with photographer Sue Davies in 1971. Of her involvement, she says, "We started it on a shoestring, and I spent 15 years working mainly for other photographers, my own photography was put aside. People would ask how I knew so much about photography, not knowing I was one myself!"
In May 2012 the Gallery reopened after a massive redevelopment. "It's done so extremely well. They raised £9 million", Bohm says. Firmly cemented as one of Europe's best for photography, the gallery is a mark of how photography has gained a reputation over the last century.
"Everybody used to slightly look down on photography", Bohm says, "now, you can't curate an exhibition without it. It has changed in my lifetime incredibly."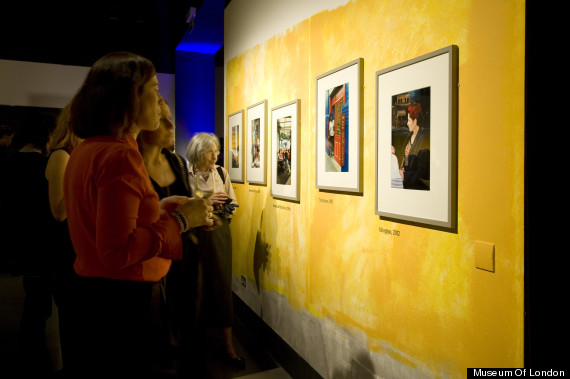 Women In Focus at the Museum of London
What hasn't, Bohm says, is the fact that photography has always been an accessible art for women.
"I keep being asked by people, has it been a disadvantage being a woman? And I always say, no, it has been an advantage. I have no doubt at all. You know, if you look at the history of photography, women from the very beginning have played quite a part, not like in painting when they had to hide their name."
"As a woman, one has an empathy towards a human being."
Perhaps it's this empathy which has made the 33 photos in her latest show. Women feature often in Bohm's photos of London, the city which she has made her home, whether in advertising and media or in real life, going about daily business.
In Bohm's eyes, however, her's is not street photography. "When I'm called a street photographer I think it's quite insulting, but that's ok. I'm interested in lots of things, not just humanist things, but the human species is the most important thing."