Roberto di Matteo today faces the press in what could be the first day of the longest week of the Chelsea manager's life. The Blues tomorrow face Italian champions Juventus in a pivotal Champions League match before hosting Premier League leaders Manchester City at the weekend. Sandwiched in between that is a decision which could have huge repercussions for the Italian manager and his club.
A verdict on the Mark Clattenburg row is expected, and already it has been suggested the County Durham official will not be charged for allegedly calling John Obi Mikel a 'monkey'. Chelsea were duty-bound to report the accusation, but their hastiness (they issued a statement two hours after their loss to Manchester United) and veracity seemed rash. Mikel did not hear what Clattenburg had apparently said and was instead told by Ramires, a Brazilian who still conducts his interviews via a translator. On the ball, but for how much longer?
On the pitch, they have not won a Premier League game since United ended their unbeaten run in that 3-2 ding-dong. Swansea snatched a late equaliser 16 days ago, Liverpool recovered at Stamford Bridge for a point and then Steve Clarke's West Brom capitalised on a porous Blues defence bereft again of John Terry.
"That's f****** rubbish and you know it," one player yelled at full-time on Saturday. Karma for Clattenburg?
Chelsea only trail City by four points but of greater concern is their progression in the Champions League. Had Victor Moses not nodded in a last-minute winner past Shakhtar Donetsk a fortnight ago, they would be languishing in third on five points and behind Juve. As it happens, they are ahead of them, just. A draw at the Juventus Stadium in their penultimate group game would be a victory in much the same way that the 2-2 semi-final draw at Barcelona was, even if it won't assure them of qualification.
Parallels can be drawn (no pun intended) with how Chelsea may line up as well. Fernando Torres, who has scored just once in his last seven games, could be dropped in favour of a Spain-style no striker system as Di Matteo targets not losing rather than winning. Whipping boys Nordsjaelland are the final opponents at Stamford Bridge, which makes any advantage over Juventus going into the 5 December fixture as match point effectively.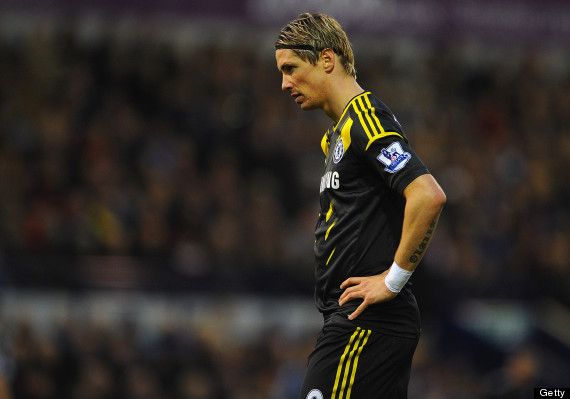 Fernando forlorn
"It is a defensive organisation on the pitch that we need to look at and as I said maybe I have to do some changes," Di Matteo hinted after the West Brom defeat. Roman Abramovich won't be smitten with such pragmatism though.
The Tsar of the Bridge didn't spend £79.5m in the summer for Chelsea to retract into their defensive shell as they did in Europe last year. His desire is for the team to win with the flair they occasionally exhibited under José Mourinho and under Carlo Ancelotti in the 2009-10 double-winning season. Such timidness Di Matteo has utilised would not be adopted by Pep Guardiola.
As for Torres - the supposed victim of the defensive switch - Di Matteo admitted on Friday he would welcome Radamel Falcao joining from Atletico Madrid, which seems ominous for the £50m striker who has struck a measly 19 times since his January 2011 transfer from Liverpool. Not one to hide his mood, Torres' disgust at being substituted at the Hawthorns was as familiar as a player mutiny at Chelsea.
So much could happen in so little time for Di Matteo, but whereas Jack Bauer had a day to right the wrongs the 42-year-old has a week. The longest week of his life.