'I'm A Celebrity's resident cry baby Hugo Taylor has had his third weep since entering the jungle a week ago, after getting the sharp end of Rosemary's tongue.
The pair were preparing dinner together - crocodile legs, which even Rosemary hadn't set eyes on before - when the 'Made in Chelsea' personality's attitude caused the TV chef to tell him off for being rude, a criticism that sent Hugo reaching for his hanky once again.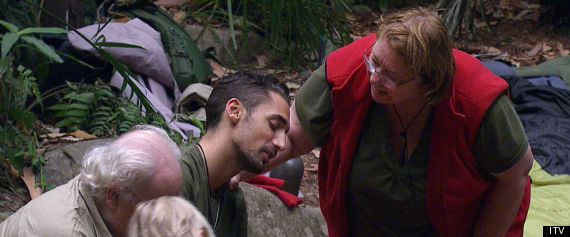 Hugo gets the sharp end of Rosemary's tongue and it finishes him off
Opinions regarding Hugo remain divided amongst his bushmates. Most people agreed that Hugo got what he deserved.
"What can I say? I didn't get what I wanted, so I was really disappointed. For the third time here, I started crying. Thankfully, I managed to laugh it off."
"Hugo is genuinely nice, but he has a flaw," observed Rosemary, who told him he needed to keep it together. "When he doesn't get his own way, he has a tantrum." Opinion is divided over Hugo so far
Colin Baker even revealed his thoughts on Hugo's cardboard cut-out, accusing it of "looking patronising", while Eric Bristow cut to the chase...
"He's been born with a spoon up his arse. He's a spoilt brat."
"All that education and he can't even find north on the compass.
But the sweet-natured Limahl was more forgiving, "You can't blame him for his upbringing."
The public made their feelings known, voting him into the Savage Sewer - the first time Helen Flanagan has not been forced to undergo a bushtucker trial.
The baton has been passed to Hugo. Will he deliver?