Justin Bieber stunned the American Music Awards and his mother in Los Angeles on Sunday night when he was named Artist of the Year.
The Baby hitmaker had already claimed the night's first trophy for Favourite Pop/Rock Male Artist and the Favorite Pop/Rock Album prize when his name was called as will.i.am presented the ceremony's last category.
Dragging his reluctant mum Pattie Mallette up onstage with him, the pop superstar said, "This is my mom, she's little but she's beautiful... I wanna thank you for just always believing in me... This is amazing."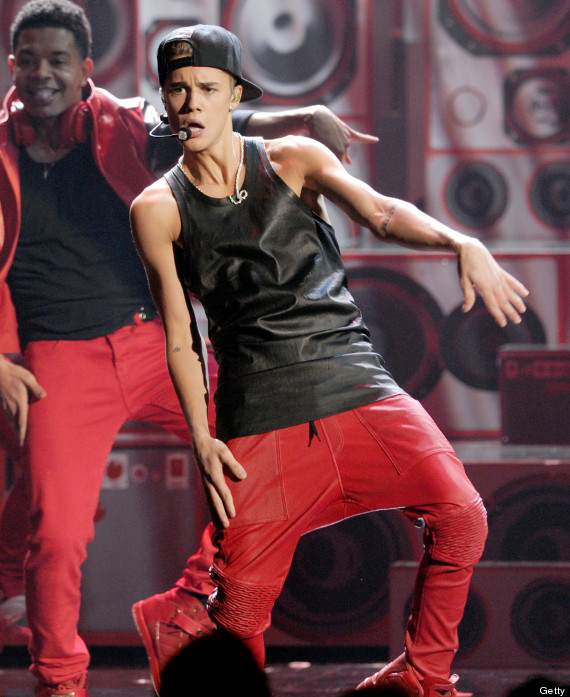 Justin Bieber danced in some red harem pants
He also addressed the drama swirling around his personal life amid reports he and longtime girlfriend Selena Gomez have split up, telling fans, "As long as you guys keep believing in me... I wanna always make you proud."
It was a great night for Bieber's musical family too - his mentor Usher and protege Carly Rae Jepsen both performed and took home awards.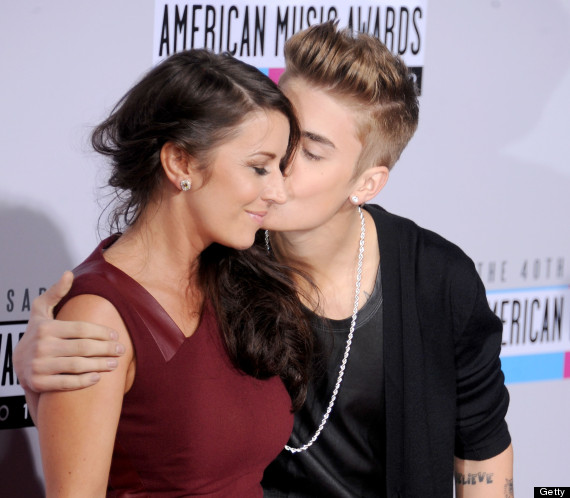 Justin Bieber and his mum Pattie Mallette
Usher was named Favourite Soul/R&B Male Artist and Jepsen beat One Direction to score the New Artist prize.
Other performance highlights came from The Wanted, Kelly Clarkson, Ke$ha, No Doubt, Christina Aguilera, Taylor Swift and Pink, who recreated her dramatic performance dance video for Try onstage at the Nokia Theatre, while Psy closed the show with his international smash hit Gangnam Style - and a special guest.
The South Korean pop sensation was joined onstage by MC Hammer for a mash-up of his catchy anthem and Too Legit to Quit.
Psy and dance music star David Guetta made history at the AMAs by winning the first ever New Media Award and Favorite Electronic Dance Music Artist honours, respectively.
There was also a tribute to the late Dick Clark, who created the American Music Awards. The music and TV mogul's longtime pal Stevie Wonder took to the stage to perform a three-song medley of hits as images of Clark were beamed onto a screen behind him.
The 2012 AMA winners are:
Favourite Pop/Rock Male Artist - Justin Bieber
Favourite Female Country Artist - Taylor Swift
New Media Award - Psy
Favourite Rap/Hip-Hop Album - Pink Friday: Roman Reloaded by Nicki Minaj
Favourite Alternative Rock Artist - Linkin Park
Favourite Soul/R&B Male Artist - Usher
Favourite Country Male Artist - Luke Bryan
New Artist of the Year - Carly Rae Jepsen
Favourite Country Band/Duo or Group - Lady Antebellum
Favourite Electronic Dance Music Artist - David Guetta
Favourite Pop/Rock Album - Believe by Justin Bieber
Favourite Rap/Hip-Hop Artist - Nicki Minaj
Favourite Country Album - Blown Away by Carrie Underwood
Artist of the Year - Justin Bieber.