Hilary Mantel could be about to add a Costa Book Award to whichever shelf she keeps her Booker Prize on.
The shortlist, announced on Tuesday, sees Bringing Up The Bodies, her historical novel about the downfall of Anne Boleyn, pitted against James Meek, Stephen May and Joff Winterhart in the Novel category.
Elsewhere in the 20 books shortlisted across five categories, two graphic novels have been nominated - a first for the prize.
Winterhart has the daunting task of defeating Mantel with Days of the Bagnold while Bryan Talbot competes in the Biography category with his illustrated memoir, Dotter of her Father's Eyes.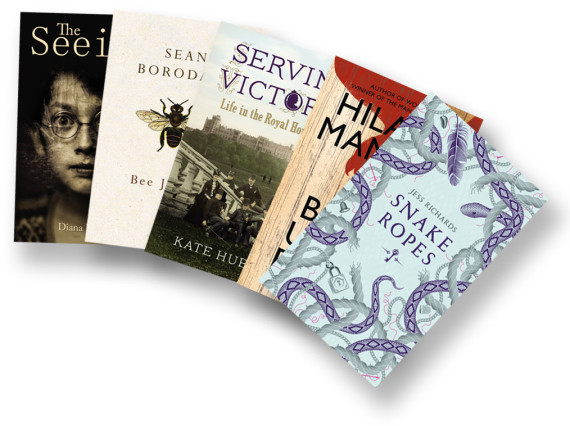 The shortlist also includes debut efforts from poet Sean Borodale and Dave Shelton, in the Children' Book Award category. Both nominees are up against previous award-winners.
The Costa Book Prize, now in its 41st year, celebrates the most enjoyable books written by writers based in the UK and Ireland and is unusual in recognising a variety of genres.
This year's awards saw 550 entrants. A total of 15 judges will make the final decision, three per category, who include author and comedian Mark Watson and actress Janet Ellis.
The category winners will each receive £5000 after the announcement on 2 January 2013, leaving the overall winner of the Costa Book of the Year 2012 to pick up £30,000 at a ceremony on 29 January.
The full shortlist is listed below.
2012 Costa Novel Award shortlist
Hilary Mantel for Bring up the Bodies (Fourth Estate)
Stephen May for Life! Death! Prizes! (Bloomsbury)
James Meek for The Heart Broke In (Canongate)
Joff Winterhart for Days of the Bagnold Summer (Jonathan Cape)
2012 Costa First Novel Award shortlist
JW Ironmonger for The Notable Brain of Maximilian Ponder (Weidenfeld & Nicolson)
Jess Richards for Snake Ropes (Sceptre)
Francesca Segal for The Innocents (Chatto & Windus)
Benjamin Wood for The Bellwether Revivals (Simon & Schuster)
2012 Costa Biography Award shortlist
Artemis Cooper for Patrick Leigh-Fermor: An Adventure (John Murray)
Selina Guinness for The Crocodile by the Door: The Story of a House, a Farm and a Family (Penguin Ireland)
Kate Hubbard for Serving Victoria: Life in the Royal Household (Chatto & Windus)
Mary Talbot and Bryan Talbot for Dotter of Her Father's Eyes (Jonathan Cape)
2012 Costa Poetry Award shortlist
Sean Borodale for Bee Journal (Jonathan Cape)
Julia Copus for The World's Two Smallest Humans (Faber and Faber)
Selima Hill for People Who Like Meatballs (Bloodaxe Books)
Kathleen Jamie for The Overhaul (Picador)
2012 Costa Children's Book Award shortlist
Sally Gardner for Maggot Moon (Hot Key Books)
Diana Hendry for The Seeing (The Bodley Head)
Hayley Long for What's Up with Jody Barton? (Macmillan Children's Books)
Dave Shelton for A Boy and a Bear in a Boat (David Fickling Books)