"We met an 80-year-old woman in a hospital once and she actually held on to life because she knew she was going to see us," recounts JLS member JB Gill.
"As soon as we'd met her, sadly to say, she passed away. But her family said 'that was the most incredible thing you did, she literally wanted to see you guys and she realised an achievement,'" the singer adds.
I'm sitting with all four members of the good-looking boyband JLS - Aston Merrygold, Oritsé Williams, JB Gill and Marvin Humes - for an exclusive interview with The Huffington Post UK.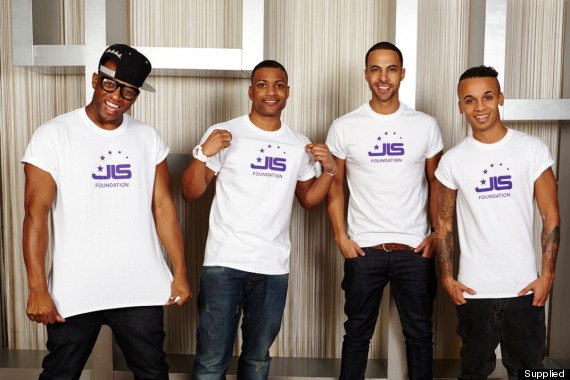 Oritsé, JB, Marvin and Aston
The group, who first topped the charts with 'Beat Again' after finishing as runners up on 2008's 'X Factor', have teamed up with Cancer Research UK to form a hopefully life-changing charitable partnership with their JLS Foundation and are keen to explain why...
"Not everyone can just walk in to a hospital and change the vibe of the place. We have that sort of power - celebrities or people who are well known - we have that sort of influence.
"So for us it's not just about the money, it's about using our influence using our time, our knowledge, our friends to raise awareness and effect change," JB says. JB, Aston, Marvin and Oritsé of JLS with the award for Best Video at the MOBO Awards 2012
The boys will partner with Cancer Research UK with the shared goal of raising £2 million over two years to help fund vital research, specifically into cancers that affect children, teenagers and young adults within the UK.
So why not just put their hands in their own designer pockets? Many will assume that after releasing four hit albums they must have some cash to spare...
"It's about power. It's about expanding your foundation. Us being a private foundation alone is not going to spread the message and give it the power it needs," says Oritsé seriously, a change for someone usually labeled as the joker of the group...
"You can go to any type of charitable event and say 'why doesn't Elton John pull out £2m from his pocket?' but he understands that you need to have the support of the people.
"Cancer affects everybody and people want to be involved, they don't want to just watch you have your own little charity and sort it out yourself, it's exciting for them," he explains. JLS arriving for the Royal World premiere of Skyfall
The JLS boyband members know only too well how cancer affects everybody...
Marvin reveals: "I lost grandparents to cancer and I'm sure all the boys have been affected."
Aston agrees: "I count myself as very lucky, my granddad had it but because of the help and support in this day and age it was found at the right time. We were around when Marvin lost his grandparents so it's something that makes me feel like the luckiest person in the world to still have my grandparents."
And Oritsé adds: "It wasn't so good for me - my grandmother died of cancer when I was a teenager and that was probably one of the hardest times in my life."
The band, who are all patrons for other charities indivually, namely Beatbullying (Merrygold), Childline (Humes), Rays of Sunshine Children's Charity (Gill) and National MS Society (Williams), and previously released branded condoms with Durex under the campaign line 'Just Love Safe' to raise money for sexual health charities, surprise me with how seriously they take their charitable work. JLS perform on stage
I'm more used to seeing them jump around the stage, showing off their ridiculously buff bodies and singing about girls in clubs, but here they are utterly convincing in their dedication to their new cause.
How much responsibility as a celebrity do they feel they have to do this kind of work?
"I think it's massively important for us to get involved with helping charities, period," says Oritsé.
And he's got his own personal role model: "Somebody I really respect in the business is Kylie Minogue for what she's been through. To be successful and to go through one of the most life testing moments ever and then to come back and still pursue a career and then go on to help other people who are going through what she's been through, I think she's an ambassador and incredible." So how do the boys plan to raise £2m in two years?
First up they are launching a competition to win the 'ultimate boyband experience'.
The winner and four friends will get to watch the private rehearsal of one of JLS's mystery boyband mates' concerts, enjoy a Nandos lunch with JLS, choose their favourite JLS song and have it seranaded to them and watch the mystery boyband's concert at the 02 in a private box with, yep, you guessed it, JLS.
One lucky winner and four of their friends will get to hang out with JLS in Spring 2013. They will watch the sound check of one of JLS' mystery boyband mates' concerts, enjoy a Nandos lunch with JLS, choose their favourite JLS song which the band will personally serenade them with, and watch the mystery boyband's concert at the O2 in their very own private box with JLS for company and finish the evening in style with an overnight stay at the Trafalgar hotel.
Marvin teases: "When it's announced the boyband we're doing the competition with, it's going to go in to a frenzy."
Oritse adds: "For us it's about raising that awareness and if that means exciting people it's only a good thing, it's going to raise a lot of money which is great."
And JB promises the night will be "spontaneous".
The competition costs £1 to enter, with the fee going to the charity, and the winner will be announced on Christmas Eve.
In one final appeal for their cause, puppy dog-eyed Marvin tells me all he wants for Christmas is for the "charity to make as much money as possible". Now, who's going to make the boys' wishes come true?
To be in with the chance of winning this unique prize and help fund vital cancer research, enter at www.jlsfoundation.co.uk