Katie Price has taken on Peaches Geldof in a Twitter war.
The feisty feud kicked off when pregnant Peaches posted a picture of her seven-month-old son Astala being licked by her adorable pup Parpy.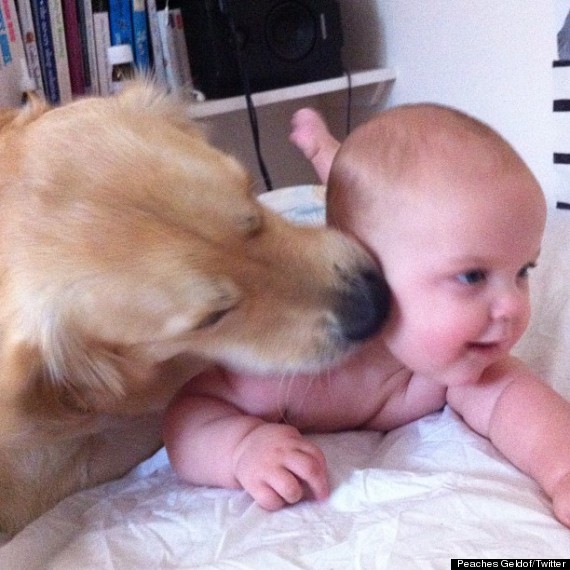 The pic of Peaches' son Astala with her dog Parpy, which Katie Price took offence to
Katie was shocked by the snap, and voiced her concerns for the tot in her newspaper column.
But Peaches, who is expecting another son with rocker hubby Tom Cohen, wasn't about to let the glamour model criticise her parenting skills.
She tweeted: "Funny that Katie Price aka 'Jordan' (lol) thinks that I shouldn't allow my gentle, sweet golden retriever dog near his best friend, my son.
"I could say the same thing to her about letting some of the multitude of 'boyfriends' she has near her kids. They all seem to be more vicious and far less intelligent than my dog will ever be. And I do just LOVE seeing her flash in the press all the time. vom."
She raged: "A female role model for the times if ever I saw one, and of course the perfect person to be lecturing me about my mothering skills."
Katie, who has three kids, hit back: "Funny that peaches does not realise that no matter how 'sweet' the dog there is a danger with newborns - rather proves the point..."
HUFFPOST UK CELEB ON FACEBOOK | FOLLOW US ON TWITTER
href="https://www.huffingtonpost.co.uk/2012/11/06/huffpost-celeb-awards-201_n_2082275.html" target="_hplink">VOTE IN THE 2012 HUFFPOST CELEB AWARDS
WIN SIGNED COPIES OF TULISA'S AUTOBIOGRAPHY