Former France coach Raymond Domenech has branded several members of his 2010 World Cup squad "a bunch of imbeciles" in a book charting the disastrous campaign.
The French squad went on strike after Nicolas Anelka had been sent home for allegedly telling Domenech to "Go f*** yourself". Already Les Bleus had played out a spineless draw with Uruguay before Mexico defeated them 2-0 and they would go on to lose their final group match by the same scoreline against hosts South Africa.
France's farcical campaign led to the dismissal of Domenech, who has targeted Franck Ribéry, Thierry Henry and Anelka in his book, aptly titled Tout Seul (All Alone).
"I couldn't bear to hear everyone giving their opinion on everything," Domenech said. "I just wanted to be sick, to cry, to leave. The infernal machine had started up and was dragging all of Les Bleus to the abyss."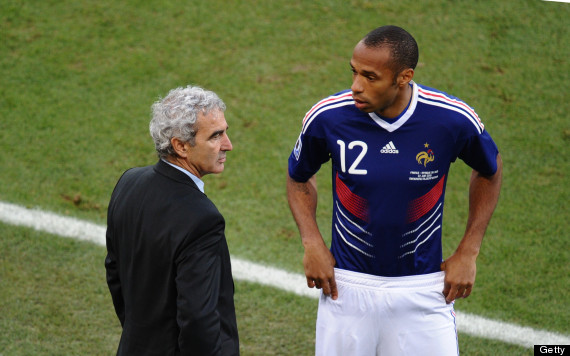 Henry didn't start one game in his fourth and final World Cup
The mutiny compelled Domenech to explode with rage at the disharmony amongst the squad.
"I'm out of here. I couldn't give a damn about this bunch of imbeciles. I have no energy left. I don't like them any more. I've had enough of their tantrums," Domenech wrote before the 2-0 defeat by Mexico.
"This team is completely incapable of transcending itself and I'm certainly to blame for something. I got it all wrong. I feel humiliated to have got it so wrong."
Anelka aired the insult at Domenech during the interval of the Mexico defeat when the scoreline was goalless. Domenech had rebuked the former Chelsea striker for not working hard enough and the incident is described in the diary-like book, published Tuesday, as one which "killed the squad". Not for the first time, Anelka has been described as an "enigma".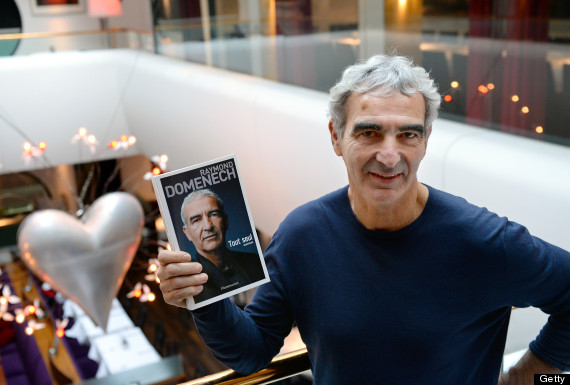 Domenech at the release of his book in Paris on Tuesday
Domenech has also shed light on the rift between Yoann Gourcuff, hailed sometime ago as the 'new Zidane' by sections of the French press, and fellow playmaker Ribéry.
"Ribéry doesn't like Gourcuff, that's for sure. Before the Uruguay match I told Gourcuff: 'You have the keys to the match, it's down to you,'" Domenech explains. "The worst thing was Ribéry's look. Maybe I'm exaggerating but in his eyes I saw hatred, contempt or jealousy.
"He's the same as Anelka and Henry, everything revolves around their belly buttons. When things go wrong, they're the first to jump ship. A senior player warned me about Ribéry in 2008; and me, I gave him the keys [to the team]. What a moron I am."
Amusingly the 60-year-old recalls how he found solace in the hotel bar.
"I went to bed after a few beers," Domenech said. "Well, a few litres."