The end is nigh: a future awaits where the rain beats so hard it hurts and citizens inexplicably hurl themselves from buildings whilst holding hands - the dystopian vision of David K O'Hara in his debut play The Upstairs Room at the King's Head Theatre, London.
Gordon (Anthony Cozens) has opted for the ultimate writer's retreat - solitary confinement in the attic room of a shambling house in London. Under the wing of the unnerving hotel Manager (Bret Jones), the American author has been secreted away to evade the clutches of an oppressive regime, whilst fake documents are arranged for his safe travels back to his homeland.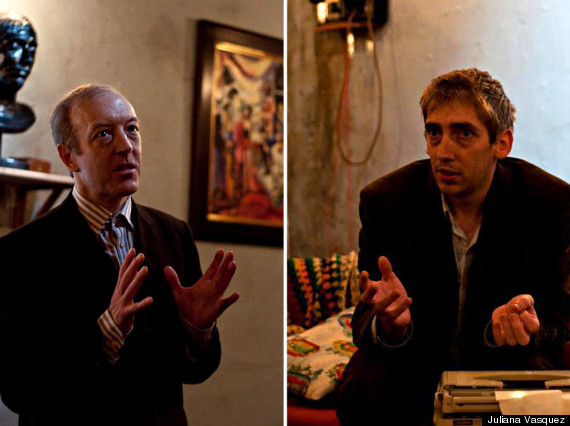 Gordon (Anthony Cozens) and the Manager (Bret Jones)
All Gordon must do is sit tight, dabble with his creaking typewriter and wait. So far so simple, until plans change when a mysterious unconscious blonde (Liza Callinicos) is bundled into the room by the evasive manager.
After firm scene-setting, including the high-point of a marvellously unsettling performance from Bret Jones exuding the air of a clean-cut serial killer, the cabin fever sparked by Gordon's enclosure takes hold.
With mere hints, O'Hara's script delivers intriguing details of a world in turmoil - so many unanswered questions keep the audience on edge as we wait for explanations to unravel.
A palpable switch in direction and pace heralds the arrival of Stella. As the pair's bizarre relationship forms, we begin to delve deep into dense dialogue and cryptic psychoanalysis - an ambitious outing for a short play, one which posits itself as a riposte to Jean Paul Sartre's hellish Huis Clos.
With fractious banter that struggles to click, the measured pace loses its way as Gordon and Stella square up to each other in the musty attic. As Cozens holds up his side of the relationship with consistent despairing angst, Callinicos does not quite match the convincing desperation of the situation - a meaty role that requires a more attune sense of timing and range of expression than seen on stage.
The stand out performance comes from Lucy Wray as Iris, evolving from mischievous girl to omniscient oracle. Wray displays the gift of accomplished storytelling, sharply pulling together a play that feels lost in the middle.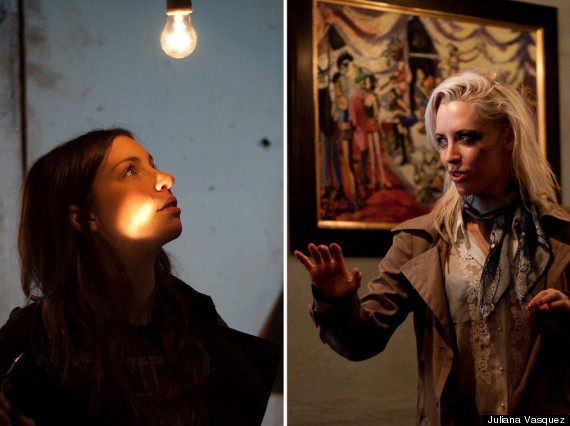 Iris (Lucy Wray) and Stella (Liza Callinicos)
An inspired stage set displays independently throbbing lightbulbs, as the unreliable power grid of London fluctuates, which later echoes Gordon's inner turmoil. When matched with the dull patter of incessant rain on the skylight, the audience is fully transported to O'Hara's vivid doomsday London.
In its 35-year history, The King's Head Theatre has earned a reputation of giving emerging theatre a deserved spotlight, contributing to the careers of a long list of names: Victoria Wood, Joanna Lumley, Alan Rickman, Hugh Grant and Prunella Scales, to name a few.
In vision, The Upstairs Room is no exception in this prestigious company - an ambitious first play for director James Savin and a bold debut for an intrepid playwright.
The Upstairs Room is running at the Kings Head Theatre, London, 13 Nov 2012 - 8 Dec 2012.
Take a look at all of HuffPost UK's theatre reviews:
HuffPost UK Theatre Reviews