'Last Tango in Halifax' provided more heartwarming proof, if it were needed, that romance and adventure need not be the preserve purely of the wrinkle-free.
Alan (Derek Jacobi) and Celia (Anne Reid) played childhood sweethearts, reunited after 60 years through the administrations of Facebook - their first date somewhat complicated by the theft of Alan's neat blue Vauxhall Astra, and an ensuing car chase through the streets and dales of Yorkshire.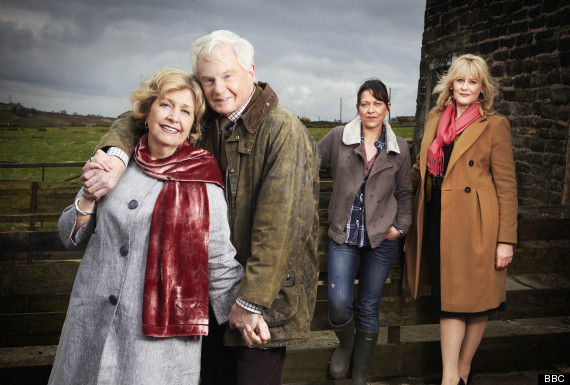 Alan and Celia have found each other again, much to the confusion of their offspring
It was fitting that this meeting took place in a genteel cafe in Skipton, because much of the dialogue and sensibility could have come straight from the pen of the market town's most celebrated resident, Alan Bennett.
The story is full of nostalgia, poignant what could-have-beens and a sense of how many people make do with their day-to-day business and responsibilities, while still holding on to their private dreams.
This theme is woven skilfully into the plots of Alan and Celia's children, Gillian and Caroline (Nicola Walker and Sarah Lancashire) - both suitably shocked by this unexpected romance between their parents, and both of whom could do well to take a leaf out of their book, and live a little.