Ashley Williams has launched an extraordinarily candid attack on Liverpool striker Luis Suárez ahead of the Reds' Premier League visit to Swansea City this weekend, saying he wanted to "knock him out".
Williams has faced Suárez three times for the Swans, winning twice and drawing once. And in his book My Premier League Diary the Wales captain has recalled when he played against the Uruguayan for the first time in November last year.
"His manner and behaviour made me want to knock him out," Williams wrote.
"I'd go as far as to say that the manner in which he approached the game, with utter contempt for us all, means that he's streets ahead of any player I've truly disliked since we've been in the Premier League.
"He dived more than any other player I've played against before - it was so bad I was genuinely shocked.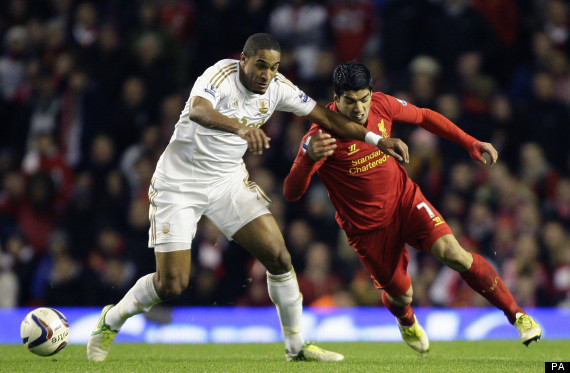 Brendan Rodgers returns to Swansea for the first time at the weekend since he departed the club to succeed Kenny Dalglish at Anfield in the summer. Ironically the Northern Irishman gave Williams permission to write the book while he was still manager at the Liberty Stadium.
Williams added Suárez "just dived down and screamed" and how he would "see him writhing on the floor" despite there being no apparent contact.
Swansea won away at Liverpool 3-1 in the League Cup last month and emerged victors with a 1-0 win in Dalglish's final match in charge.