Kerry Katona has returned to the 'This Morning' sofa to talk about her infamous appearance on the daytime show in 2008 when she slurred her way through an interview and admits she was on so many drugs that she shouldn't even be alive.
Speaking to Phillip Schofield and Emma Willis about how she has since turned her life around, Kerry said: "It's a real sad story... but I'm really proud, the likes of some people who have sadly passed away like Amy Winehouse and Whitney Houston... I was on prescription medication and I was also taking Class A drugs so I'm really, really lucky to be alive.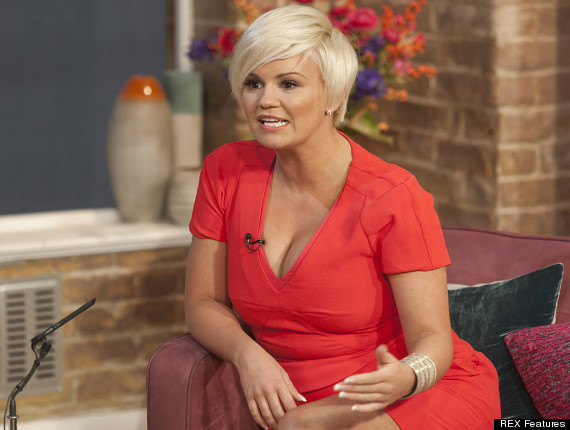 Kerry returned to the 'This Morning' sofa earlier today
"And I found the strength to get through my demons... but I did kind of feel like you were my dad [to Phillip] and I had to wait for his approval!"
"For me, it was a personal triumph, because I never thought I would make it to 30... I could've had my kids took off me, I should be dead, I was at an all time low which we witnessed here on live television."
And speaking of that 'This Morning' appearance, Kerry said: "That day I was on a hell of a lot of heavy medication, which I took the night before which I explained to you previously and I was in a really unhappy marriage.
"I was in denial of my drug habit and I was really lost and lonely, I had no friends around me, no family... and when I watch that clip, I refer to her as a third person. It's really, really sad but in the same respects I'm really proud that I got through it."
HUFFPOST UK CELEB ON FACEBOOK | FOLLOW US ON TWITTER
Kerry also admitted that she only told her children of her demons following her 'return interview' on This Morning in 2010.
Kerry explained: "Holly said to me then, what about the kids, have they seen the show? And I sat here and said 'no, they haven't seen the show yet' and I actually went home and thought 'Holly's got a point there'.
"I sat Molly and Lilly down and at first I said there are things in there about your mum that I don't want you to know. But I let them watch it, and I'd rather they hear it all from me than anybody else, and they watched the whole show."
href="https://www.huffingtonpost.co.uk/2012/11/06/huffpost-celeb-awards-201_n_2082275.html" target="_hplink">VOTE IN THE 2012 HUFFPOST CELEB AWARDS
WIN SIGNED COPIES OF TULISA'S AUTOBIOGRAPHY