Now, here's a treat. The Artist Formerly Known As UK Gold - that's comedy TV channel Gold - launches a new series tonight, 'Bring Me Morecambe And Wise'. And to give us a tantalising glimpse of what's in store, they've released this sketch above, which hasn't beeen seen for 45 years.
Click play to watch the changing of the guard spoof - which involves Eric and Ernie marching, shouting, and, endearingly, corpsing. It's just one piece of rare and unseen footage that will feature in the series - which covers five aspects of the pair's career: From Stage To Screen, The Sketches, The Plays, The Guests and The Christmas Specials.
To mark the launch, Gold have also commissioned a portrait of Morecambe And Wise made entirely of breakfast food: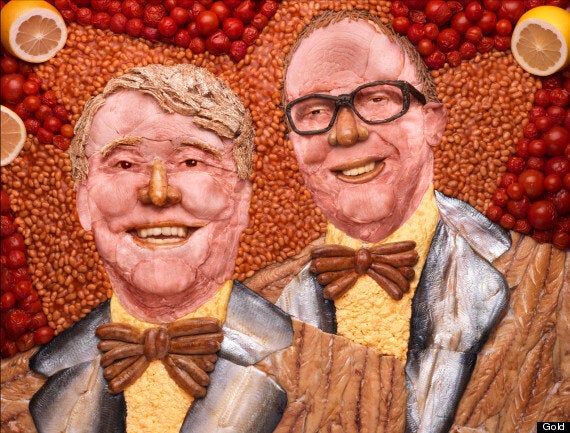 The work was created by artist Carl Warner and his team of four food stylists - and the full list of ingredients is:
• Heads: 3 x gammon steaks
• Faces: 15 x back and 15 x streaky bacon rashers
• Eric's glasses: 6 x vanilla pods
• Ernie's hair: Shredded Wheat
• Jacket lapels: 17 x smoked mackerel fillets
• Shirts: collars (omelette) / frilly fronts (scrambled) – total of 2 dozen eggs
• Eyes: 1 x mushroom, 4 x sultanas
• Teeth: 20g of blanched almonds
• Bowties/noses/lips: 25 sausages (a mixture of cocktail, chipolata and Lincolnshire)
• Background: 1.5 x white grapefruit, 7 x cans of baked beans, 150 x tomatoes
And in case you're wondering how they did it:
And in case you're wondering why they did it: well, that's because the routine below was voted the most iconic Morecambe And Wise sketch of all time, of course. Take it away, fellas...
'Bring Me Morecambe And Wise' airs on Wednesdays at 9pm from 21st November on Gold.