The pothole problem on Britain's roads is reaching crisis point, highway bosses warned today.
If there were further cuts in maintenance funds or a severe winter "the impact on our already crumbling roads could be catastrophic" said a local government transport chief.
The Local Government Association (LGA), concerned at Government cuts and the current state of the roads, is now calling on Whitehall to free up money and invest it in resurfacing the current network.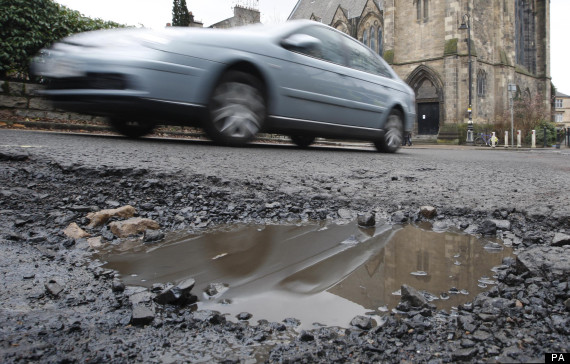 The cost of repairing Britain's roads is estimated to be £10bn
The LGA said decades of underfunding, recent severe winters and widespread flooding earlier this year, "compounded by the current Government cutting £500 million from roads maintenance budgets, means many councils are struggling to move beyond simply patching up a deteriorating network".
The authority added that should councils be stripped of even more funding in next month's Autumn Statement, many will find it nearly impossible to keep on top of road repairs.
The LGA said the issue would become critical should there be another harsh winter similar to 2010/11 which caused £600 million of road damage.
Councillor Peter Box, chairman of the LGA's economy and Transport Board, said: "Keeping roads safe is one of the most important jobs councils do and over the past two years they have fixed almost four million potholes, one every 16 seconds.
They've also reduced the cost of filling a pothole by 25% and are constantly looking for ways to make their dwindling funds go further.
"However, for decades Whitehall funding for repairs has not kept pace with demand. Damage caused by severe winters and widespread flooding has compounded this deterioration and councils are now contending with massive cuts to roads maintenance funding and millions of pounds in compensation payouts for pothole damage."
He went on: "It's estimated that it would now cost about £10 billion to bring our roads up to scratch. Notions that the widespread resurfacing which is desperately needed can be paid for by efficiency savings and smarter use of money are pure fantasy.
"Unless something fundamentally changes, many councils will struggle to keep on top of repairs. Should they have their funding cut further or face another severe winter, the impact on our already crumbling roads could be catastrophic."
Box said re-directing funding into road maintenance would offer an instant boost to growth, improve road safety and "save billions of pounds down the line from the current false economy of reactive repairs which many councils are trapped in".
The LGA said the Department for Transport was reducing the highways maintenance budget it gives councils by £442 million over the period 2009 to 2014.
It said that by 2014/15 councils will get £164 million a year less than in 2010/11, a 19% drop.
The LGA added this was on top of "the 28% cut in core funding from the Department for Communities and Local Government, money which councils use to support road repairs and which is being increasingly consumed by spiralling adult social care costs".
AA president Edmund King said: "We are extremely concerned about this warning. Potholes are a scourge for all road users, whatever means of transport they are using.
"Cyclists and motorcyclists risk serious injuries, motorists face financial loss and communities can be blighted by potholes."
He went on: "In April, the Government published its pothole review report Prevention - And A Better Cure.
"Evidence suggests that not enough prevention is going on due to restricted budgets. We need both good practice and adequate long-term, ring-fenced funding to rid us of these damaging defects. If our waterlogged roads suffer heavy freezing this winter, the situation will go from bad to worse."
Transport Minister Norman Baker said: "Despite the economic challenges we are facing, this Government is providing more than £3 billion to councils across England for road maintenance between 2011 and 2015, demonstrating our commitment to maintaining our existing transport infrastructure.
"We also provided an additional £200 million in March 2011 to help repair local roads damaged by the severe winter weather in 2010.
"It is ultimately up to local highway authorities to determine how they prioritise their funding and the Department (for Transport) has simplified its funding streams to better enable them to do this.
"We are also providing £6 million for the highways maintenance efficiency programme which is already helping councils work together to deliver a first-class service to their residents, at the same time as saving money."