Charcoal led to pigment for cave paintings, linseed made colouring for oil paintings, then light sensitive silver nitrate changed the world - photography was born.
Man has been using photography for creative self-expression for over 150 years. Historic pictures, born of celluloid film rather than memory card, are growing in rarity and value. A renewed appreciation has seen a rise in collectors of iconic images, with prints earning the same reverence as classic paintings.
Bloomsbury Auctions are meeting this demand with photos gathered from around the world - their latest stock of over 200 prints is due to go under the hammer on Friday.
Bloomsbury's collection may not have the same exposure as feted museums and galleries, but the auctioneers can boast to host treasures equal to those seen in venues such as the National Portrait Gallery.
With each photo of cultural significance, a fascinating story comes attached. HuffPost UK perused Bloomsbury's latest treasure trove to bring you some of the tales beneath the photographic veneer.
Afghan Girl, 1984
By Steve McCurry (b.1950)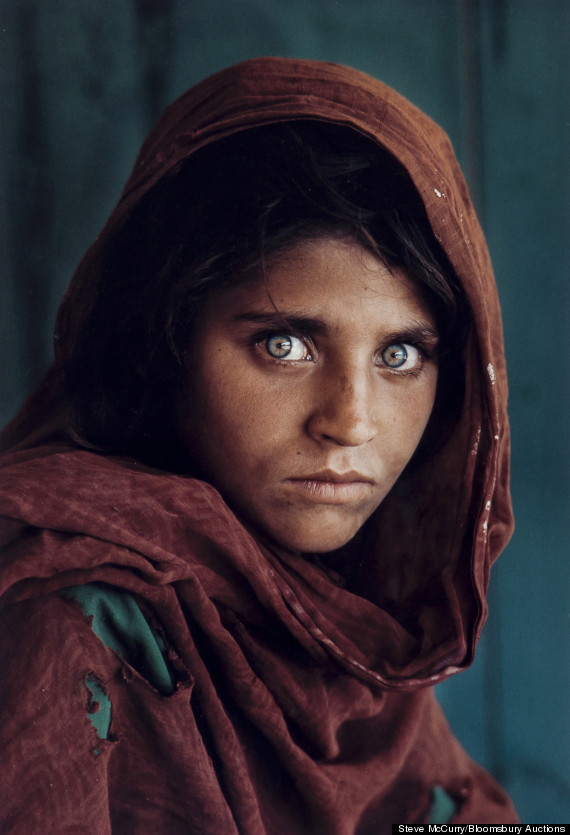 The piercing eyes of the girl that graced the cover of National Geographic in 1985 became known as the 'Afghan Mona Lisa'.
Legendary photographer Steve McCurry was on assignment in a refugee camp in Peshawar, Pakistan, photographing a story on the border regions. Walking past one of the tents he heard voices coming from within. Peering inside, a schoolteacher invited him to join a lesson with her class of girls.
McCurry noticed one young student with striking green eyes. After taking a couple of frames, it took the encouragement of the teacher to convince the girl to look into the lens with her intense and focused gaze.
Immediately after the photo the girl leapt up and ran away - an historic picture caught in a mere moment.
Speaking to Phaidon publishers at the Chris Beetles Fine Photos gallery in Piccadilly, London, McCurry shared his thoughts on the child: "There's a real emotion and a real beauty in the picture. Her expression is ambiguous - she's obviously poor because she has a rip in her shawl and her face is kind of dirty. But through that there's a dignity and a perseverance and fortitude."
Bloomsbury expect this signed print to raise £3,000-£4,000 at auction.
Abbey Road, 1969
By Iain Macmillan (1938-2006)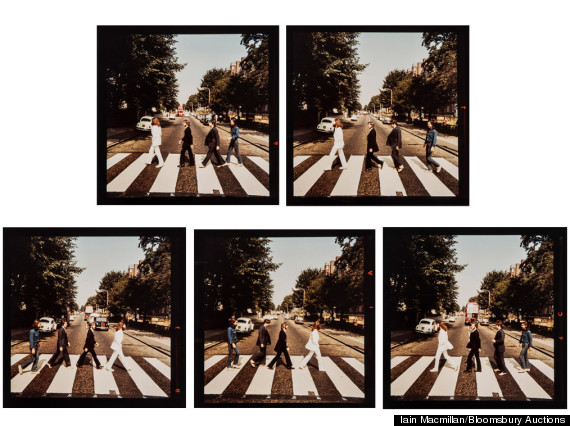 In a photo session lasting just 10 minutes, the enduring image that graced The Beatles' final album was born in 1969. The long-haired musical legends walked across the zebra crossing on Abbey Road whilst photographer Iain Macmillan snapped away.
Just six pictures were shot - Bloomsbury Auctions are offering five prints of the outtakes that didn't make it to the album cover. Macmillan died in 2006, having signed the back of just one of these prints, with the intention that all five photos be kept together as one collection.
This rare opportunity to own a piece of history is a dream for any fan of the fab four - Bloomsbury expect the photos to reach £5,000-£7,000.
The Parting of Lancelot and Guinevere, 1874
By Julia Margaret Cameron (1815-1879)
Pioneering photographer Julia Margaret Cameron was ahead of her time when producing poses of literary figures in the 19th century.
It all started with a rather famous author - Cameron's friend Alfred Lord Tennyson encouraged her to make a series of photographs to illustrate his Idylls of the King, poems on Arthurian legends.
Spending three months recreating her imaginative scenes for Tennyson, Cameron was driven by the firm belief that photography was equal to other more traditional forms of illustration.
Husband Charles Hay Cameron stepped in as model for the intrepid photographer, complete with a cotton wool beard, portraying the mystical Merlin.
Taking 245 photos for Tennyson, only 12 were submitted to the poet, with three making it into Tennyson's edition as woodblocks reduced in size.
Undeterred, Cameron published all 12 of her pictures as a gift book in time for Christmas 1874 using her full-size prints with handwritten excerpts of Tennyson's poems.
Bloomsbury expect Cameron's photos to reach £6,000 to £8,000.
Marilyn Monroe with Orange and Yellow Striped Scarf (from the Last Sitting), 1962
By Bert Stern (b. 1929)
This 1962 photo of a smiling Marilyn Monroe is tinged with tragedy - just six weeks later the icon was dead. Known as "The Last Sitting", Bert Stern undertook Monroe's final photo shoot over three days at the Bel-Air Hotel for Vogue magazine.
As the last dazzling flourish from the world's most famous symbol of glamour, Stern's shoot went down in showbiz history.
Speaking to The Huffington Post, Stern recalled his time with Monroe: "I never saw her cry," he said. "I didn't see her as a sad figure at all. She had her problems but who doesn't? She didn't seem at all unhappy to me."
According to Stern, the smiling Monroe we see in his pictures is a true reflection - at odds with the notion of a secretly broken and unhappy woman: "She was great. She was sexy, beautiful, funny - the perfect all-American girl. I loved her."
Bert Stern's signed prints are expected to fetch £1,000 to £1,500 at auction.
Lella, Bretagne, ca.1947
By Edouard Boubat (1923-1999)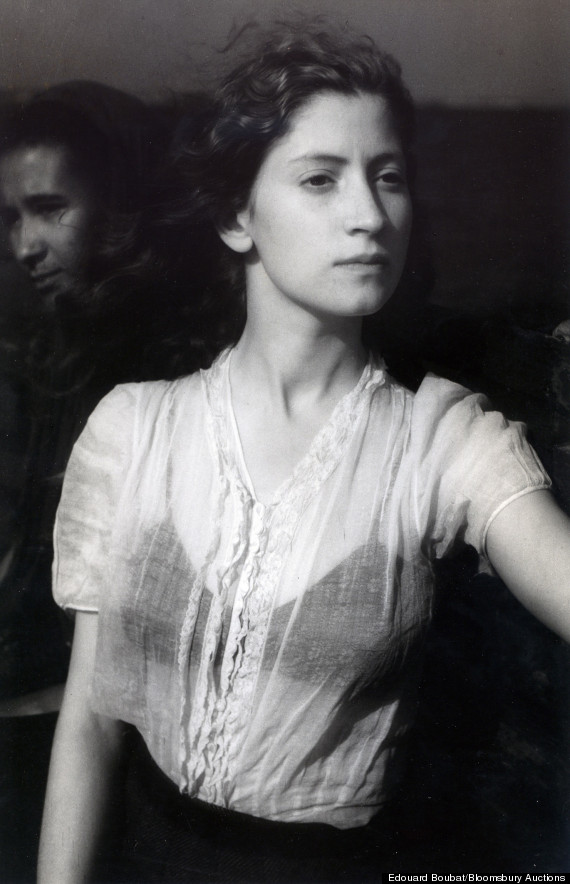 "Photography is made from everything and of nothing … We can only say thank you, to the lovers, the beaches, the sun, the encounters. These are all fleeting and after them only a photograph remains. And for that, I am thankful," - the reflective words of Edouard Boubat in 1988, the man behind this world-famous photo of his muse, Lella.
Born in Paris in 1923, Boubat studied typography and graphic arts, but did not take up photography until after the second World War in 1946.
Just a year later, Boubat took this photo of Lella, now considered his masterpiece - a confident woman gazing into the distance, looking to the future, her back to the horrors of the War, yet holding a warrior's stance. The black bra and transparent blouse hint at the blossoming of womanhood.
The photographer and model shared a passionate love, for which they were famous. Lella was the subject of much of Boubat's work.
Bloomsbury estimate this print to reach £10,000-£15,000 at auction.
The Bloomsbury Photography Auction is on Friday 23 November. You can view the full brochure of photos here.
Flick through our favourite photos from the collection in the slideshow below:
Photographs, Bloomsbury Auctions, 23 November 2012