An auction house is selling a photograph experts claim shows the iceberg that doomed the Titanic.
The black and white picture of the floating ice was pictured by the Captain of the S. S. Etonian on April 12, 1912 - two days before the Titanic sunk.
Experts believe its unusual shape matches sketches and eye witness descriptions of the iceberg that fatally collided with the billed unsinkable ship.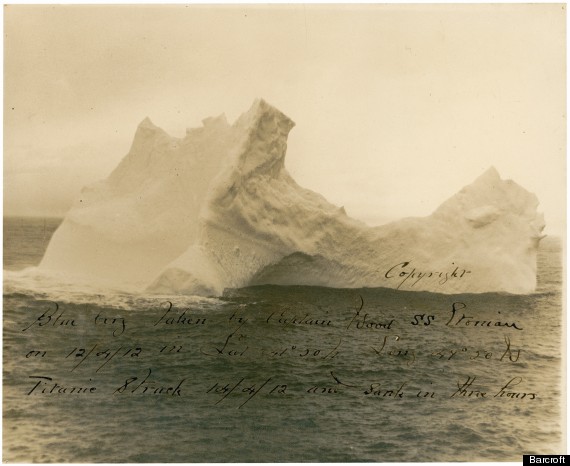 The world's most famous iceberg?
A handwritten caption, scrawled directly onto the developed picture states the coordinates of the iceberg as Latitude 41° 0 W Long 49° 50 N - not far from the widely documented position of the vessels wreckage.
The caption reads: "Blueberg taken by Captain Good S. S. Etonian on 12/4/12 in Lat 41° 50 W Long 49° 50 N. Titanic struck 14/4/12 and sank in three hours."
Frederick Fleet, the lookout on duty who first spotted the iceberg, and Joseph Scarrott, an able-bodied seaman, both drew sketches of the ice which are eerily similar.
And a number of images have been reported to be of the 'berg that catastrophically collided with the famous vessel'.
But thanks to its unusual shape, experts believe this photo could end all arguments.
Titanic expert Stanley Lehrer told RR Auction house: "I've had opportunities to look at various photographs reporting to be the iceberg that doomed the Titanic.
"Within the past two years, I discovered a photograph that had been taken by Captain Wood of the S.S. Etonian on 12th April 1912.
"The captain took the pictures because he was fascinated with the unusual shape of the iceberg. This particular iceberg had an ellipse on the top right of the iceberg.
"In my professional judgement this iceberg is the one that sunk the Titanic."
A spokesman for RR Auction, who are selling a host of historic memorabilia linked to the sunken cruise liner, said: "The story of the Titanic still resonates both here in America as well as in England.
"To be able to auction a photo of the iceberg that sank the unsinkable is quite remarkable and something we are proud to offer to our clients from around the World."
Bidding begins on 13 December for the online Titanic memorabilia sale, with the auction closing on 16 December 16.
Elsewhere this week in Culture...